"
I made a choice. If she hates me for the rest of my life, I made the right choice, and that's all you have to know.
"
— Wells to Finn Collins.
Wells Jaha was a major character in the first season and a guest character in the second season. He was portrayed by Eli Goree and debuted in the series premiere.
Wells was the son of Chancellor Thelonious Jaha and Clarke Griffin's childhood best friend. He got himself arrested when he found out his father was sending the 100 to the ground, including Clarke for whom he harbored feelings. Given some of the laws his father had enforced, he was not popular among the 100.
On the ground, Wells tried to maintain order, advocating for the more moral choice and tried to make everyone get along. He was hardworking and resourceful, volunteering to dig graves and collect rainwater to aid their newly established camp, and his expert knowledge of botany helped treat Jasper's injuries.
He was murdered by Charlotte in the third episode, who wanted retribution for her parents' execution on the Ark by his father. His death set the stage for Clarke and Bellamy to work together as co-leaders in an attempt to stop more senseless deaths.
Wells emerged as an early leader for the 100, maintaining a moral compass and doing everything for the benefit of the people around him. He also acted as a mediator between Clarke and Bellamy by suggesting compromises for situations. His death marked significant changes to certain character arcs, specifically for Bellamy and Finn. Bellamy had to step up as a leader, and Finn became the new "voice of reason".
Early Life
When Wells was younger, he and his best friend Clarke practice for the Unity Day Celebration. As Thelonious Jaha records their practice, Wells asks his father how the Ark stays in space. Thelonious tells him by keeping out Earth's gravitational pull. The Ark uses its own thrusters, which are all around it, to keep them spinning. This allows them to generate their own gravity.
Many years later, while playing chess with his best friend Clarke, Wells notices Clarke is distracted by something. Wells questions her and tells her she can trust him. Clarke swears him to secrecy and reveals the flaw in the Ark's systems as well as her father's plan to go public. Wells promises Clarke her secret is safe with him.
Later that day, Wells watches as Clarke's father is floated. Clarke assumes it is Wells who turned in her father and got him killed. However, Wells knows the truth, Abigail Griffin turned in her husband. Wells lets Clarke hate him to protect her from the truth, because if she knew that her mother, Abigail Griffin, had turned in her father Clarke would hate her.
Sometime later, Wells learns 100 prisoners are being sent to the ground. Wells damages the last tree to get himself arrested and sent to the ground.[1]
Throughout the Series
Personality
Wells was strong, strict, caring, and wanted the best for himself and others. His personality was similar to his father, Chancellor Jaha's. Always one to try and follow the rules, Wells was someone who tried to use all the things they learned on The Ark on the ground. Though many did not appreciate what he had to add to the group, Wells always stuck up for what he believed in. Loyal to a fault, in the past, he had been known to try and protect others in any way possible. This point was proven when he took the blame for Jake Griffin's death even though it was Abigail Griffin's fault. He cared for Clarke so much he was willing to have her hate him than have her face the truth and hate her own mother.
Over time he was seen as not only a rule follower but also as someone who had the courage to go against the popular vote if he believed it was right. Viewing the world in a very black and white sense, he tried to act in a sensible fashion. Most of the time Wells was predictable in his reactions -- put others first, followed the rules, and tried to use what he knew to make sense of everything happening. He was the type to try and figure things out in a logical way.
Physical Appearance
Wells had brown skin, dark eyes, and black hair with an athletic build.
Relationships
Thelonious Jaha
Main article: Thelonious and Wells
"Clarke, is my son with you?"
- Thelonious to Clarke about Wells.

Although their relationship is never fully explored, it is shown that Wells and Thelonious Jaha may have a strained relationship. Despite their strained relationship, they are shown to care for one another deeply.
Before the series begins, Wells breaks the law, forcing his father to imprison his only son and send him down to Earth with the rest of the juvenile delinquents. While on Earth, Wells experiences an overwhelming amount of hatred the Delinquents have for him and his father. Because of their hatred for Wells and his father, Wells faces opposition constantly. Because of the actions of his father, Wells ultimately loses his life.
Later, when the 100 make contact with the Ark, Thelonious asks Clarke if Wells is still alive. When he hears that Wells is dead he mourns his son.
However, after Jaha makes contact with
A.L.I.E.
and is linked to the
City of Light
, he has lost all memory of Wells as the City of Light 'pills' erase all memories relating to his son to 'heal' him from the psychological pain of his death, with Jaha showing no inclination that he is interested in remembering more about Wells even after Abby Griffin mentions Wells and A.L.I.E. identifies Wells as his son.
Clarke Griffin
Main article: Clarke and Wells
"...wanted to protect me. So, you let me hate you. How can you forgive me?"
- Clarke to Wells.

Wells and Clarke Griffin have a strained relationship. The two were childhood best friends and Wells loved her. It is unclear if Wells' feelings were one-sided. When Clarke tells Wells that her father discovered that the Ark is failing, Wells promises he won't tell anybody. Later that night, Clarke's father is floated while Wells watches. Clarke develops a hatred for Wells, believing him to have told his father.
When Wells learns the juvenile delinquents are being sent to the ground, he gets himself arrested by trying to destroy the last tree[1]. When Wells tries to get her forgiveness, Clarke states that still hates him and will never forgive him. Although he tries to help her, Clarke spurns his efforts.
Before his death, the truth about Clarke's father's death is revealed. After the truth is revealed, Clarke and Wells reconcile. However, Wells and Clarke never get the chance to fix their relationship, as he is murdered the next morning.
Bellamy Blake
"I have my reasons. I also have the gun. So I ask the questions, and the question is, why aren't you helping me? Your dad banished you, Wells, and yet here you are, still doing his bidding, following the rules. Aren't you tired of always doing what's expected of you? Stand up to him. Take off that wristband, and you'll be amazed at how good it feels."
- Bellamy to Wells.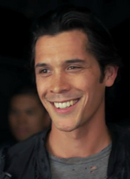 Wells and Bellamy Blake quickly developed a negative relationship with each other. Wells disagreed with many of the things Bellamy had to say and wanted rules, structure, and to bring the Ark people down; whereas Bellamy states that his people are on the ground and maintains an idea of "whatever the hell we want, whenever the hell we want".
Bellamy demands Wells take off his wristband and briefly tries to get Wells to agree with him but Wells rebuffs him. When he does, Bellamy comments he is sorry it has to be this way. Then Murphy and John Mbege force Wells to the ground and remove his wristband.
Wells is shocked when Clarke willingly recruits Bellamy to help save Jasper Jordan. While on the rescue mission Finn joins along. Bellamy teases Wells by telling him they came down to Earth for the same reason: to protect someone they love. Bellamy tells Wells that Clarke doesn't see him with Finn around. After the group rescue Clarke from a pitfall, Wells steals Bellamy's gun and saves Bellamy from a panther. Bellamy remarks that now Clarke sees him.
When Wells is killed, Bellamy wants to keep it a secret that one of the 100 killed him.
John Murphy
"You know, my father, he begged for mercy in the airlock chamber when your father floated him."
- Murphy to Wells.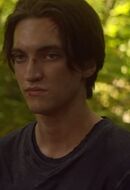 Wells and John Murphy quickly became enemies. Murphy harbors ill feelings towards Wells because his father, Chancellor Jaha, killed Murphy's father. Murphy explains that his father begged Wells' for mercy but was floated anyway.
On many occasions, Wells defends himself against Murphy. At one point Murphy craves "FIRST SON FIRST TO DYE" into the Dropship. Instead of being intimidated by Murphy, Wells tells him, "You spelled die wrong, geniuses."
After Wells is murdered by Charlotte, Clarke accuses Murphy of the crime although Murphy maintains his innocence.
Finn Collins
Although Wells had little interaction with Finn Collins, the two seemed to have mutual respect for one another. Both had a strong desire to protect Clarke. However, Wells may have harbored jealousy towards Finn for his relationship with Clarke. As pointed out by Bellamy Blake, Clarke would never notice Wells with Finn around.
Finn was also the only person to question if Wells was really the one who turned in Clarke's father,
Jake Griffin
.
Charlotte
"I'm sorry."
- Charlotte to Wells.
Wells was indifferent to Charlotte. He even invited her to sit with him moments before his death.
Charlotte did not outright hate him. But to "slay her demons" she kills Wells in hopes that it would stop the nightmares and end her torture. Before and after, Charlotte shows a great amount of remorse for killing him.
Later, Charlotte did confess to his murder, even after she saw how the 100 acted when Murphy was the suspected killer. Charlotte ultimately kills herself because of what she did to Wells.
Appearances
Quotes
---
---
Gallery
Notes and Trivia
Kass Morgan confirmed that Wells was named after H. G. Wells,[2] an English writer in many genres, and called father of science fiction.
Wells Jaha may be descended from The Grounder Iman Jaha.
Wells is given the nickname "Chancellor of Earth" by John Murphy in mockery.[3]

He was the first main character to be killed in the series on screen.
He was the first delinquent to be murdered by another delinquent.
He was also one of the first characters to be killed by another character in the series. The first was Atom.
His death ended several storylines with other characters, including leadership battle with Bellamy Blake, hostility with Murphy, and fighting for Clarke Griffin's attention with Finn Collins.

Out of the main characters, he has the second least amount of appearances. The only main character with less appearances is Callie Cartwig who only appeared in "Pilot".

Wells and Callie are the only main character that did not kill anyone. Although, in "Earth Skills", Wells shoots a panther, which is Wells' only kill.

Both the TV series and the books version of Wells purposely got themselves sent to the ground so they could be with Clarke Griffin. In both versions, he damaged the last tree.

In the TV series, Wells and Clarke were childhood friends. Though his crime is never stated on the show, at Comic-Con 2014, it was revealed that Wells was arrested for damaging the last tree.[1]
In the books, Wells and Clarke met as teens and were in a romantic relationship while living on Colony. He set fire to the last tree in order to get locked up, having determined that it as the most serious crime he could commit that wouldn't actually hurt anyone. He also sped up the expedition to Earth by tampering with the oxygen in the ship's airlock. 
See Also
References
Community content is available under
CC-BY-SA
unless otherwise noted.