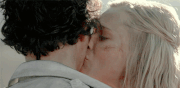 Uh this show! It's very Lord of the Flies! But with females & everyone's attractive. :)
I can't deal with the immediate demand of chaos that's going on at the camp either! NOPE! --~ Lorisa! (talk) 23:43, March 20, 2014 (UTC)

I ship Bellarke sooo hard! Get out of here Lexana, I've waited for this since I no longer shipped Clark & Finn because Finn was a liar with a girlfriend. Also, I don't like that they are taking two powerful females and making them lesbians. It just feels like a guy's wet dream. Lexa should be with someone else, more of a Willow/Tara relationship from Buffy.
(If you don't know who let are, go youtube them!!)
And I'm not ready for Bellemy and Clarke just yet. Their relationship is cute as hell in the books, but they both got a bit more growing to do. Granted they are leaps and bounds from where they started in season 1. GREAT character development!!! --~ Lorisa! (talk) 11:40, March 17, 2015 (UTC)

Jason said bellarke WOULD be a couple in a later seasons!! YAYE!--~ Lorisa! (talk) 00:58, March 21, 2015 (UTC)

So The 100 is REALLY based off if feminist ever get's better, and we truly have equal rights for men and woman. As of 2014, only 59 women have made it o space, vs. 481 men.
Really hate this new colour blocking! --~ Lorisa! (talk) 07:36, March 28, 2015 (UTC)
Why do i keep seeing I have msgs, but when I check I don't see any :S --~ Lorisa! (talk) 07:51, June 17, 2017 (UTC) I Made these pages :)
Community content is available under
CC-BY-SA
unless otherwise noted.