Wiki Targeted (Entertainment)
Play Sound
Information regarding the actual date is vague but a relatively accurate timeline of events is possible.
Before the series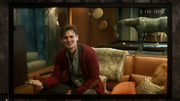 These are all of the events that were referenced/mentioned throughout the series that have happened prior to the landing of the 100 on Earth. All dates are backtracked from the confirmed date of the nuclear apocalypse, stated to have been in 2052. This is used as Ark Year 1 (year zero doesn't exist in common calendars), the first year people lived on the Ark.
Date (CE)
Ark Year
Event
1959
−93
The Mount Weather Emergency Operations Center is founded.
Oct. 20 1987
−64
Bill Cadogan is born
Around 2000's
−52
Charmaine Diyoza, Paxton McCreary, Michael Vinson, Russell Lightbourne, Simone Lightbourne are born.
Around 2010's
−42
Nikki, Hatch, Priya Desai, Caleb Mason, Cole McAdams, Grace Cadogan are born.
2001
−51
Association football (FIFA) game is played as seen in flashbacks on the Ark.
2019
−33
Mir-3, predecessor of the Ark, is presumably launched.
Around 2020's
−32
Chris, Gabriel Santiago, Josephine Lightbourne, Dave, Miles Shaw, Peri Gordon are born.
2025
−27
Becca Franko is born.
Around 2030's
−22
August, Reese Cadogan, Ryker Desai, Jasmine Mason are born.
2034
−18
Callie Cadogan is born.
2035
−17
Becca Franko went to Harvard University when she was 10 years old.
Around 2040's
−12
Daniel and Kaylee Lee are born.
2040s
In South America, Bill Cadogan travels to Peru's Machu Picchu, where he discovered the Anomaly Stone there, in a secret observatory underneath the Temple of the Sun. He decides to bring it to the United States.
July 4
2041
−11
A terrorist group, called the "United Liberation Army", led by Charmaine Diyoza, launched a terrorist attack on Thursday, July 4. 80 civilians were killed.
Aug. 12
2042
−10
The "United Liberation Army" launched a terrorist suicide bombing attack in Washington, D.C. that resulted in 19 civilians killed.
Dec. 5
2043
−9
Charmaine Diyoza was arrested.[1]
The severe droughts has led to the dust storms someplace on Earth: Olivia, Josephine and Dave mention that the water was being rationed and it was very dusty outside.
Dave commits suicide.
2045
−7
Eligius III arrives to a habitable world, known as Alpha, where a mission team is dropped. 21 days later, one of their members suffers psychosis and kills almost everyone in the camp.
?
?
After dropping off Mission Team Alpha on Sanctum, Eligius III headed towards Beta, where its transport ship crashed there. Colin Benson was the sole survivor of the crash. He discovered Anomaly Stone and began his research on the Temporal Anomaly. He also figured out the code sequence required for opening.
April 4
2047
−5
Charmaine Diyoza, along with the other prisoners, take control of Eligius IV.


Earth loses contact with Asteroid Mining Penal Colony.

2048
−4
Two dozen mega reactors had been built to withstand any disaster, even a nuclear attack.[2]
Oct. 20
2051
−1 (0)
A.L.I.E. chooses her avatar to be Becca and confirms her mandate is to "make life better" by "fixing the root problem" of "too many people."
May 10
2052
1
A.L.I.E. causes the Nuclear Apocalypse.[3]

Chris records a video of himself on the day of the nuclear apocalypse, revealing that "she got the launch codes". He then kills himself during the recording.

Oct. 1
2054
2
The Alpha Station destroys the 13th Station, known as Polaris, leading to the unification of the 12 remaining stations into The Ark.

Becca descends to Earth with A.L.I.E. 2.0. A week later, Becca was burned alive by the Second Dawn cult members, led by Bill Cadogan.
Callie Cadogan and some of the Second Dawn members, who are all inoculated with Nightblood, defects from the Second Dawn Bunker and head towards the surface, becoming the ancestors to the Grounders. Bill Cadogan and the other Second Dawn members, who remained in the bunker, opens up a portal to Bardo, where they settled there, becoming the ancestors to the Disciples.

2070
18
Gabriel Santiago and Russell Lightbourne successfully brought back Josephine Lightbourne using a Nightblood host and her Mind Drive.
2086
34
Dante Wallace is born.
2093
41
The doors of Mount Weather are opened, 54 people die of radiation, including Dante's sister and mother. Dante goes outside for 5 minutes.

Presumed beginning of the experimentation on Outsiders.

2102
50
MIR-3 salvaged and incorporated into The Ark.

Thelonious Jaha is born.

2107
55
Marcus Kane is born.
2109
57
Abigail Griffin is born.
2126
74
Bellamy Blake is born.
2128
76
Lexa kom Trikru is born.
2130
78
Raven Reyes is born
2131
79
Clarke Griffin is born.
2132
80
Octavia Blake is born.
2137
85
Charlotte is born.
2130s
~85
Original Echo was forced by Queen Nia to kill her friend Ash. But failed so Ash killed her instead and took her name.
2144
92
Madi is born in Shallow Valley.
2147
95
Prince Roan is banished by Queen Nia and Lexa as part of a deal to allow the Ice Nation to join the Coalition. Roan hasn't returned to the Ice Nation in three years.
2148 Fall
96
Catastrophic Life Support System Failure discovered.

Jake Griffin gets floated as he attempts to go public with the discovery.
Clarke Griffin is sent to juvenile detention for treason.
Octavia Blake is sent to juvenile detention for being a second child.
Aurora Blake gets floated for having a second child.

2149
97
The 100 receive Earth Skills from Charles Pike on The Ark.
The 100 are sent to Earth and land in what was formerly Northern Virginia in the United States of America.
In the series
Season One starts when the 100 were sent to Earth on Saturday, September 13, 2149[4] and is considered "Day 1."
Season Two begins a day after season one and ends on November 3, 2149.[5]
Season Three begins 86 days after the ending of season 2[6] on January 27, 2150.
Season Four begins right after season three ends.
Season Five is set six years after the Second Nuclear Apocalypse but includes multiple flashbacks from the six year time skip.
Season Six picks up right after season five ends after Clarke Griffin and Bellamy Blake wake up after 125 years of cryosleep.
Season Seven picks up right after season six ends.
Quotes
Timeline Quotes
Jaha (to Abby about the re-vote on The Culling): "You have ten days."
-- in Earth Skills
Raven (to Abby): "God, what a piece of junk. They must have found this thing when they Salvaged MIR-3 in 2102. You want me to get a 130-year-old escape pod ready to stand up to the inferno of re-entry in 9 days?"
-- in Earth Skills
---
Bellamy (about Jasper): "You don't have the guts to make the hard choices. I do. He's been like this for 3 days. If he's not better by tomorrow, I'll kill him myself."
-- in Earth Kills
Jake Griffin (about the 2001 FIFA game): "Actually, it was over 147 years ago."
-- in a flashback to a year ago in Earth Kills
---
-- in Murphy's Law
---
Jaha: "Abby, The Council approved Kane's population reduction plan 3 hours ago.... We start in 12 hours."
-- in Murphy's Law
---
---
---
Clarke: "How long have I been asleep?"
Abby: "About 10 hours."
-- in Human Trials
---
Timestamp: "2 Days Later."
-- in Fog of War
Lorelei Tsing: "Sir, it's been 3 days and Maya's numbers are still climbing. It's too soon to be sure, but I believe she may actually be metabolizing radiation on her own now. Jasper's blood was 8 times more effective than any Outsider we've ever measured. I'm still running tests, but his system appears to have jump-started hers."
-- in Fog of War
Marcus Kane (to Thelonious Jaha): "Two days without food or water."
-- about being imprisoned by the Grounders in Fog of War
Thelonious Jaha: "I have a message from the commander. Leave or die. We have two days."
-- in Fog of War
---
Abby: "We have two hours till dawn."
-- referring to the expiration on Lexa's two-day ultimatum in Long Into an Abyss
---
---
-- about Octavia in the Tondc bombing in Bodyguard of Lies
---
Dante Wallace (to Cage Wallace): "One week in office, and you've managed to turn neighbor against neighbor, you've made the outsiders hate us more than they already did, you've lost our outer defenses, and now a door that hasn't been breached in 97 years is going to fall, and an army of savages is going to flood these halls, killing every last one of us."
---
Murphy (recording a video for Jaha): "86 days. I'm on my last box of food, so.... Really never thought I'd miss the Ark this much but anyway, Jaha, if you're seeing this, it would mean you are not dead so... SCREW YOU!"
-- in Wanheda (Part 1)
---
Abby: "Lincoln, you said to me yesterday that even our supply runs were putting us at risk. They were jeopardizing our peace. How would you advise me now?"
-- in Wanheda (Part 2)
---
-- in Ye Who Enter Here
---
Titus: "Yesterday Skaikru took the brand."
-- in Watch the Thrones
Pike: "... I lost more than half of my remaining people yesterday ..."
-- in Watch the Thrones
-- in Watch the Thrones
-- in Watch the Thrones
-- in Watch the Thrones
---
---
See Also
References
Community content is available under
CC-BY-SA
unless otherwise noted.