This article is about administrators and bureaucrats. You may be looking for moderators or rollback.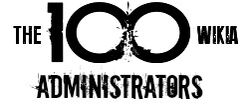 "
If you have any questions, comments, or concerns – please contact one of the Admins on this wikia.
"
— The 100 Wikia Admins
The Admin Applications are now CLOSED.
Administrators, also known as Admins or Sysops, are users with extended rights that help the wikia: contribute, modify the site, edit the home page, delete pictures, delete vandalism and spam, and more. They aim to build a community and make sure everything runs smoothly.
Some Admins are also Bureaucrats, which means they have the power to promote or demote users of the wiki, including adminship.
Administrators are voted into their position based on their application and qualifications. Administrators are promoted to their rank and will generally stay at that rank until they can no longer perform the expected duties of their role. Administrators are held to the same standards as other editors and are expected to follow the same policies and guidelines as everyone else. Administrators can choose to step down if they wish.
Duties
Administrators additional functions include:
Deleting and undeleting pages, page histories, and uploaded files.
Locking (protecting) a page so it cannot be edited or renamed by users without admin rights or autoconfirmed status.
Blocking IP addresses or user names from editing; and very quick "rollback" of undesirable edits.
Editing the interface by changing system messages and skins.
Who are this wiki's administrators?
♦ Indicates user is also a bureaucrat
How do I use administrator powers?
See Help:Administrators' how-to guide for a guide on using admin functions.
Contact Wikia Staff
Wikia staff members have full access to all Wikia. They will be shown in Special:Listusers/staff on any wiki. Please use Special:Contact to contact Wikia staff.
Becoming an administrator
There will be an announcement when there are new Administrators wanted, and when they're picked. Keep an eye on the forum if you would like to become one. If there are no new administrators wanted, but you have been contributing to this wikia in a way where we might consider your for admin, you can become a councilor.
As a Councilor you will be involved with Admin-chats about the wikia, so that your opinion is certainly taken into account.

Application rules: 
Please make sure to follow these carefully.
No applications when they're closed: There will be a highlighted post whenever the applications for admin positions are open , and it will be on top of this page. If they're not open , please do not apply.

Councilors are chosen at Admin-meetings, with a majority vote

No spamming the admins: When you are being considered for an admin position, chances are that the other admins know who you are and what you do. So no need to spam the other admins with the request of becoming an admin.
Requirements:
The 100 wikia has a few requirements for aspiring administrators.
Have a minimum of 200 main space edits. This does not include: forums, blog, talk, or user pages.
The user must have a thorough knowledge of The 100 series.
The user will serve as a role model to the other users on the wiki. As such, their behavior should reflect this.
The user will serve as a representative for our wiki. As such, their behavior should reflect this.
Be a member of Update Team or Enforcers: We choose people who are active members in our community. Being on the Update Team or Enforcers assures you are active and helping, so you'll be far more likely to be chosen.
Support: We find it important that other members of the community agree. Therefore you should have some people supporting your application. You can either make a blog post or a forum. You can link it to one of the admins if you have several supports...

This requirement is not mandatory but advised.

Communication: The Admins communicate very frequently. Therefore it's a bonus if you have external communication platforms such as Skype (preferred) or Twitter. This is not manditory but could help your case.
If there are no active bureaucrats, use the "Requests for adminship" page to nominate users to become admins or bureaucrats. Once a community decision has been reached (or if there is no active community to debate the decision), please leave a message at the wiki adoption requests page and Wikia Staff can provide the rights.
What can administrators not do?
Administrators should not use their administrator powers to settle editing disputes; for example, to lock a page on a version he or she prefers in an editing dispute that isn't vandalism.
Administrator powers should be used to help keep the wiki clear of vandalism, spam, and users who make malicious edits, but not for simple disagreements between users acting in good faith.
Ideally an admin shouldn't be considered "in charge". The ideal admin is just someone who is trusted to have a few extra buttons and to use them for the benefit of the Wikia community.
Community content is available under
CC-BY-SA
unless otherwise noted.