"
You were right, Clarke. Life is about more than just surviving.
"
— Her final words in Thirteen
Lexa was a recurring character in the second and third seasons. She was portrayed by cast member Alycia Debnam-Carey and debuted in "Fog of War".
As the Commander of the 12 Clans, Lexa was the reason the twelve clans united to fight against Mount Weather and without her, the Coalition would fail.
Lexa sent Tristan to take over from Anya during The Trikru-Delinquent Conflict. After the rest of The Ark lands, Lexa had put out a bounty for all Sky People and Thelonious Jaha was taken captive. After the massacre in Tondc, Lexa released Jaha and demanded the rest of the Sky People flee or die. When Clarke Griffin offered a way to save both of their people from Mount Weather, Lexa reconsidered and only demanded Finn Collins' death instead in compensation for the massacre.
Lexa and Clarke soon started working hard together to form an alliance and free their people from Mount Weather. They came up with a plan to take down Mount Weather's defenses and invade the Mountain. Carl Emerson approached Lexa and offered a deal from Cage Wallace to free all of Lexa's people if she left and they never encroached upon the Mountain again. Lexa took the deal, saving her people but leaving behind Clarke and the rest of the Sky People.
At the beginning of the Season Three, Lexa had Clarke brought to her. Clarke agreed to forgive her and they became allies again and later lovers. Mid-season, Lexa was accidentally killed by Titus, but continued to exist through the Flame. At the end of the season, Clarke used the Flame and, with Lexa's help, terminated A.L.I.E. Her spirit continues to live in the Flame and later advises the new Commander, Madi Griffin, Clarke's adopted daughter, based off of her experiences with Clarke. Raven is later forced to delete the Flame to save Madi from Sheidheda. However, Sheidheda at least is uploaded to another location, leaving the fate of Lexa's consciousness and that of the other Commanders unknown.
Early Life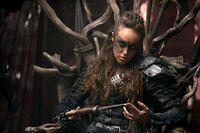 Lexa grew up with the Woods Clan, and from an early age, was trained as a warrior.[1] She was born a Nightblood and, as is tradition, was brought to Polis to be taught and trained as a potential successor for the Commander. She was mentored by Flamekeeper Titus, and later served as Anya's Second,[2] who was also her mentor.
At age 12, the previous Commander died and Lexa was called to attend the conclave. In doing so, she stopped her training with Anya in order to take on the responsibilities required by her position.[3] Lexa won the conclave after seven other Nightbloods were killed and Luna had fled. She was given the Flame ascending as the new Commander.
Lexa played an important role in uniting the 12 Grounder Clans and forming the Coalition and became the first Commander of the all 12 Clans.[4]
At some point, Lexa began a relationship with a Grounder named Costia. Costia was kidnapped, tortured and beheaded by another Grounder clan, the Ice Nation, to learn Lexa's secrets. They delivered Costia's head to Lexa's own bed. This caused Lexa to trust no one.
Throughout the Series
Personality
Lexa, as leader of the Grounders, commands respect and is very powerful. She is considered a "visionary" and is willing to show mercy and to trust the Sky People in the hopes of forming an alliance. Lexa has a neutral personality and is more logic-based and acts quite cynical. After Costia, the woman she was in love with, was killed by the Ice Nation trying to gain information on Lexa, she decided to detach herself from people emotionally, believing love was a weakness she could not afford to have. As a leader, she is willing to do anything for her people's safety. Lexa is loyal to her people to a fault, and this can result in her going against her word when it benefits her people. She broke deals with both Roan and Clarke, because of her desire to do what's best for her people.
Lexa has a soft spot for the children she trains. In "Ye Who Enter Here", Lexa is seen training with one of the Nightbloods, Aden, praising him during their match and backing off when he manages to hit her rather than countering.
She has been shown to care greatly about the people she loves, like Clarke, so far that their opinions influence her decisions. This has been shown multiple times during the show. Due to her connection and love for Clarke, it has been seen that she cares greatly about Clarke's people and family. Lexa made the young Nightbloods swear their loyalty to the thirteenth clan in the event that they became Commander.
As revealed by Madi in "Damocles (Part 1)", Lexa's biggest regret was that she betrayed Clarke outside of Mount Weather and she grew to no longer believe that love is a weakness.
Physical Appearance
Lexa is of average height, slim, with a high forehead, full lips, tanned skin, blue-green eyes and a youthful face. She wears tribal face paint most of the time but has been seen without it. She also has long, wavy brown hair that she keeps in braids.
Relationships
Appearances
Quotes
Killed Victims
Notes and Trivia
The character was named after Alexandria, a city in Virginia, close to Washington, D.C.[5]
The reason Lexa's hair was covered when she first appears is because her braids were so intricate that she'd need to have help with them,[8] which would defeat the purpose of her disguise from Kane and Jaha.
A tweet from Kim Shumway teased a "Lunexa" ship, indicating that she and Luna may be friends.[9]
Lexa is a few years older than Clarke,[10] although Alycia Debnam-Carey, who plays Lexa, is younger than Eliza Taylor, who plays Clarke.
Lexa has been trained to be a warrior since she was two.[1]
When creating her character, Lexa was originally imagined as a child around ten or so, but the idea was scrapped due to restrictions on working with children.[11]

This original character concept was used on Madi her successor in Season 5.

When Lexa told the Ice Nation Ambassador "I have a message for Queen Nia", she not only killed him to show that she's not weak, but to send a clear message to Azgeda that Trikru and the other clans will not go down without a fight.
Lexa is the first Commander of the 12 Clans,[4] unifying them all into a Coalition.
She was the last true Commander who led the Grounder Coalition in the former eastern United States. Ontari never got the Flame and by the time Madi got the Flame, the clans had been combined into Wonkru.
Lexa was the first character revealed to be LGBT+.

Lexa's death sparked social media outrage due to her being one of the most recent of a string of copious LGBT+ character deaths on TV shows.
Gallery
See Also
References