"
You were right, Clarke. Life is about more than just surviving.
"
— Her final words in Thirteen
Lexa was a recurring character in the second and third seasons. She was portrayed by cast member Alycia Debnam-Carey and debuted in "Fog of War".
As the Commander, Lexa had formed the Coalition, uniting the twelve Grounder Clans in a war against the Mountain Men.
Lexa's Coalition became involved in a series of conflicts with the Sky People, after the latter group landed in the Coalition's territory. Tensions between the two sides escalated and after the massacre in Tondc, Lexa demanded that the Sky People leave her territory or die. Clarke Griffin instead offered a way to save both of their people imprisoned within the Mountain Men's fortress, Mount Weather, and Lexa agreed to a truce on the condition of Finn Collins's death in compensation for the massacre.
With their new-found alliance, Lexa and Clarke started working closely to free their people from Mount Weather. They grew closer and Lexa admitted to having romantic feelings for Clarke, though Clarke was not yet ready for a relationship. The alliance successfully took down Mount Weather's defenses, but before Lexa's army could attack, Cage Wallace offered Lexa a deal that ensured all of Lexa's people would be freed. In return, Lexa's army would have to retreat and never encroach upon the Mountain again. Lexa took the deal, saving her people but leaving Clarke and the rest of the Sky People to die in Mount Weather. After Clarke was forced to irradiate Mount Weather, the deaths of all the Mountain Men and Clarke's post-traumatic stress causes her to hate Lexa for her betrayal and for endangering Clarke's people.
Months after her betrayal, Lexa found herself struggling to maintain control over the Coalition; her rule being challenged first by Queen Nia of the Ice Nation, and then by Pike's faction of the Sky People. She also had Clarke brought to her in Polis amid the political turmoil. As Lexa worked to bring peace to the clans, Clarke forgave her and they became allies again and later lovers. Lexa's Flamekeeper, Titus, disapproved of their relationship and during an attempt to kill Clarke, shot Lexa by accident instead. Despite Clarke's desperate attempts to save her, Lexa died from her wound.
As with all of the Commanders before her, Lexa's consciousness continued to live on in the Flame upon her physical death. When Clarke took the Flame to destroy A.L.I.E. in the City of Light, her mind summoned Lexa's consciousness to aid her. Lexa protected Clarke from A.L.I.E.'s Cult, and Clarke declared her love for Lexa before they parted ways. Lexa's consciousness survived the fight against A.L.I.E. and remained within the Flame, later advising Madi Griffin, the new Commander and Clarke's adopted daughter, based off of her own experiences with Clarke. It was Lexa's advice from beyond the grave that convinced Clarke to let Madi lead Wonkru in the Battle for Eden.
Raven Reyes was later forced to delete the Flame's data to save Madi from Sheidheda. Even without the Flame, fragments of previous Commanders' memories, including Lexa's, were shown to have remained in Madi's mind. Eventually, the Flame was physically destroyed by Gabriel Santiago after an aborted attempt to fix it, taking with it the minds of the Commanders still stored inside.
When Clarke took the final test to determine the fate of the human race, the Judge took on the form of Lexa because she was Clarke's greatest love[1].
Early Life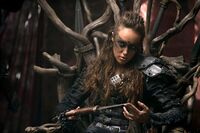 Lexa grew up with the Woods Clan and began her warrior training at the age of two.[2] She was born a Nightblood and was, as is tradition, brought to Polis as a child to be groomed as a potential successor to the Commander. She was mentored by Flamekeeper Titus and later served as Anya's Second[3].
When she was 12, the previous Commander died and Lexa was called to attend the Conclave. In doing so, she stopped her training with Anya in order to take on the responsibilities required by her position.[4] Lexa won the Conclave after seven other Nightbloods were killed and Luna had fled. She was given the Flame and ascended as the new Commander.
At some point, Lexa began a relationship with a Grounder named Costia. The Ice Nation, led by Queen Nia, kidnapped, tortured and beheaded Costia to learn Lexa's secrets. They then delivered Costia's head to Lexa's own bed. Costia's death caused Lexa to trust no one and to believe that love is weakness.
As Commander, Lexa united the 12 Grounder Clans and formed the Coalition, thus becoming the first Commander to rule over all 12 Clans[5][6]. Despite what the Ice Nation did to Costia, Lexa still allowed them to join her Coalition on the condition that Nia's eldest son Roan was banished[7].
One of the laws that Lexa introduced as Commander was to ensure that a unanimous vote of no confidence by the Ambassadors of the Coalition or death were all that could remove a Commander from power.
Throughout the Series
Personality
Lexa commands respect as the powerful leader of the Grounders. She is seen as a visionary and has a deep desire to do what's best for her people, even if it means going against their traditions. She has demonstrated a willingness to seek peaceful solutions and work with her enemies, such as letting the Ice Nation into her Coalition or showing mercy to the Sky People in the hopes of forming an alliance.
Lexa has a stoic and rather cynical personality; she often appears aloof and impassive, with rare outbursts of anger when provoked. She believes that to be a good leader, she must not let emotions affect her judgement. Among the Grounders, her readiness to make tough choices has earned her a reputation for ruthlessness. After Costia, the woman Lexa loved, was tortured and killed by the Ice Nation in an attempt to gain information on her, she decided to detach herself from people emotionally, believing love is a weakness she cannot afford to have.
Having been groomed to lead her people since she was a child, Lexa does not shy away from her role and responsibilities. She has a strong sense of duty and is loyal to her people to a fault. As a leader, Lexa is willing to do anything to ensure her people's safety. She is not above betraying her allies when it benefits her people, breaking deals with both Clarke and Roan for this reason.
Despite her emotional detachment, Lexa does have a soft spot for a select few such as the Nightblood children she trains. When among those she trusts, she is willing to show a more vulnerable side. She is shown to care deeply for the people she loves, valuing their opinions and putting their wellbeing before her own. Her love for Clarke, for example, extends to Clarke's people as well, so much so that Lexa made the young Nightbloods swear their loyalty to the thirteenth clan in the event that they become Commander.
Lexa not only had a violent childhood where she was expected to fight to the death, but she also carries a great deal of self-hatred due to the death of Costia and her betrayal to Clarke. These experiences lead her to have a very low self-image. Lexa see's herself as expendable despite being the commander of 12 clans, and doesn't seem to understand why Clarke is so adamant on her not dying. Even for a great warrior she was always quick to accept death in dangerous situations.
As revealed by Madi in "Damocles (Part 1)", Lexa's biggest regret is betraying Clarke in the Mount Weather War. Through her relationship with Clarke, she grows to believe that life should be about more than just surviving, and eventually no longer regards love as a weakness.
Physical Appearance
Lexa is very thin and petite, with a high forehead, full lips, lightly tanned skin, green eyes, and a youthful face. She also has long, wavy brown hair that she usually keeps in braids. Lexa wears tribal face paint on the battlefield or on ceremonial occasions, but is otherwise seen without it. She is rarely seen without the Commander's emblem on her forehead.
Relationships
Appearances
Quotes
Killed Victims
Notes and Trivia
The character was named after Alexandria, a city in Virginia, close to Washington, D.C.[10]
The reason Lexa's hair was covered when she first appears is because her braids were so intricate that she'd need to have help with them,[13] which would defeat the purpose of her disguise from Kane and Jaha.
Lexa is a few years older than Clarke,[14] although Alycia Debnam-Carey, who plays Lexa, is a few years younger than Eliza Taylor, who plays Clarke.
When creating her character, Lexa was originally imagined as a child around ten or so, but the idea was scrapped due to restrictions on working with children.[15]

This original character concept was used for Madi, her successor, in Season Five.

When Lexa told the Ice Nation Ambassador "I have a message for Queen Nia", she not only killed him to show that she's not weak, but to send a clear message to Azgeda that Trikru and the other clans will not go down without a fight and will never surrender to Queen Nia.
Lexa is the first Commander to have dominion over all 12 Grounder Clans,[5][6] unifying them under her Coalition.

Lexa is the highest ranking Grounder as the Commander of the 12 Clans.
After inducting the Sky People as the thirteenth clan of her Coalition, she becomes the first Commander to have jurisdiction over the Sky People.
Lexa has been the Commander for at least three wars: one with the Ice Nation, one with the Sky People, and one with Mount Weather.
Titus states that he served four Commanders before Lexa, making Lexa the fifth Commander he has served.

She was the only true Commander to lead the Coalition in the former eastern United States. Ontari, her direct successor, was never in possession of the Flame and by the time Madi, her true successor, bore the Flame, the Coalition had already been succeeded by Wonkru.
If the Ascension Day Lexa was celebrating in "Thirteen" was her own, that would mean her reign as Commander started and ended on the same day years apart.
Lexa was the first character revealed to be LGBT+.

Lexa's death sparked outrage due to her being one of the most recent of a string of copious LGBT+ character deaths on TV shows.
TVLine ranked Lexa's death as the most heartbreaking death of the entire series.[16]
Jason Rothenberg cited Lexa's death as his biggest regret of the entire series.[17]
Although it hasn't been confirmed, fans say that Lexa's birthday is July 1, 2128
Gallery
See Also
References