"
You were right, Clarke. Life is about more than just surviving.
"
— Her final words in Thirteen
Lexa was a recurring character in the second and third seasons. She was portrayed by cast member Alycia Debnam-Carey and debuted in "Fog of War".
As the Commander, Lexa had formed the Coalition, uniting the twelve Grounder Clans in a war against the Mountain Men.
Lexa's Coalition became involved in a series of conflicts with the Sky People, after the latter group landed in the Coalition's territory. Tensions between the two sides escalated and after the massacre in Tondc, Lexa demanded that the Sky People leave her territory or die. Clarke Griffin instead offered a way to save both of their people imprisoned within the Mountain Men's fortress, Mount Weather, and Lexa agreed to a truce on the condition of Finn Collins's death in compensation for the massacre.
With their new-found alliance, Lexa and Clarke started working closely to free their people from Mount Weather. They grew closer and Lexa admitted to having romantic feelings for Clarke, though Clarke was not yet ready for a relationship. The alliance successfully took down Mount Weather's defenses, but before Lexa's army could attack, Cage Wallace offered Lexa a deal that ensured all of Lexa's people would be freed. In return, Lexa's army would have to retreat and never encroach upon the Mountain again. Lexa took the deal, saving her people but leaving Clarke and the rest of the Sky People to die in Mount Weather.
Months after her betrayal, Lexa found herself struggling to maintain control over the Coalition; her rule being challenged first by Queen Nia of the Ice Nation, and then by Pike's faction of the Sky People. She also had Clarke brought to her in Polis amid the political turmoil. As Lexa worked to bring peace to the clans, Clarke forgave her and they became allies again and later lovers. Lexa's Flamekeeper, Titus, disapproved of their relationship and during an attempt to kill Clarke, shot Lexa by accident instead. Despite Clarke's desperate attempts to save her, Lexa died from her wound.
As with all of the Commanders before her, Lexa's consciousness continued to live on in the Flame upon her physical death. When Clarke took the Flame to destroy A.L.I.E. in the City of Light, her mind summoned Lexa's consciousness to aid her. Lexa protected Clarke from A.L.I.E.'s Cult, and Clarke declared her love for Lexa before they parted ways. Lexa's consciousness survived the fight against A.L.I.E. and remained within the Flame, later advising Madi Griffin, the new Commander and Clarke's adopted daughter, based off of her own experiences with Clarke. It was Lexa's advice from beyond the grave that convinced Clarke to let Madi lead Wonkru in the Battle for Eden.
Raven Reyes was later forced to delete the Flame's data to save Madi from Sheidheda. Even without the Flame, fragments of previous Commanders' memories, including Lexa's, were shown to have remained in Madi's mind. Eventually, the Flame was physically destroyed by Gabriel Santiago after an aborted attempt to fix it, taking with it the minds of the Commanders still stored inside.
When Clarke took the final test to determine the fate of the human race, the Judge took on the form of Lexa because she was Clarke's greatest love[1].
Early Life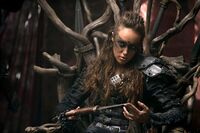 Lexa grew up with the Woods Clan and began her warrior training at the age of two.[2] She was born a Nightblood and was, as is tradition, brought to Polis as a child to be groomed as a potential successor to the Commander. She was mentored by Flamekeeper Titus and later served as Anya's Second[3].
When she was 12, the previous Commander died and Lexa was called to attend the Conclave. In doing so, she stopped her training with Anya in order to take on the responsibilities required by her position.[4] Lexa won the Conclave after seven other Nightbloods were killed and Luna had fled. She was given the Flame and ascended as the new Commander.
At some point, Lexa began a relationship with a Grounder named Costia. The Ice Nation, led by Queen Nia, kidnapped, tortured and beheaded Costia to learn Lexa's secrets. They then delivered Costia's head to Lexa's own bed. Costia's death caused Lexa to trust no one and to believe that love is weakness.
As Commander, Lexa united the 12 Grounder Clans and formed the Coalition, thus becoming the first Commander to rule over all 12 Clans[5][6]. Despite what the Ice Nation did to Costia, Lexa still allowed them to join her Coalition on the condition that Nia's eldest son Roan was banished[7].
One of the laws that Lexa introduced as Commander was to ensure that a unanimous vote of no confidence by the Ambassadors of the Coalition or death were all that could remove a Commander from power.
Throughout the Series
Personality
Lexa commands respect as the powerful leader of the Grounders. She is seen as a visionary and has a deep desire to do what's best for her people, even if it means going against their traditions. She has demonstrated a willingness to seek peaceful solutions and work with her enemies, such as letting the Ice Nation into her Coalition or showing mercy to the Sky People in the hopes of forming an alliance.
Lexa has a stoic and rather cynical personality; she often appears aloof and impassive, with rare outbursts of anger when provoked. She believes that to be a good leader, she must not let emotions affect her judgement. Among the Grounders, her readiness to make tough choices has earned her a reputation for ruthlessness. After Costia, the woman Lexa loved, was tortured and killed by the Ice Nation in an attempt to gain information on her, she decided to detach herself from people emotionally, believing love is a weakness she cannot afford to have.
Having been groomed to lead her people since she was a child, Lexa does not shy away from her role and responsibilities. She has a strong sense of duty and is loyal to her people to a fault. As a leader, Lexa is willing to do anything to ensure her people's safety. She is not above betraying her allies when it benefits her people, breaking deals with both Clarke and Roan for this reason.
Despite her emotional detachment, Lexa does have a soft spot for a select few such as the Nightblood children she trains. When among those she trusts, she is willing to show a more vulnerable side. She is shown to care deeply for the people she loves, valuing their opinions and putting their wellbeing before her own. Her love for Clarke, for example, extends to Clarke's people as well, so much so that Lexa made the young Nightbloods swear their loyalty to the thirteenth clan in the event that they become Commander.
Lexa not only had a violent childhood where she was expected to fight to the death, but she also carries a great deal of self-hatred due to the death of Costia and her betrayal to Clarke. These experiences lead her to have a very low self-image. Lexa see's herself as expendable despite being the commander of 12 clans, and doesn't seem to understand why Clarke is so adamant on her not dying. Even for a great warrior she was always quick to accept death in dangerous situations.
As revealed by Madi in "Damocles (Part 1)", Lexa's biggest regret is betraying Clarke in the Mount Weather War. Through her relationship with Clarke, she grows to believe that life should be about more than just surviving, and eventually no longer regards love as a weakness.
Physical Appearance
Lexa is very thin and petite, with a high forehead, full lips, lightly tanned skin, green eyes, and a youthful face. She also has long, wavy brown hair that she usually keeps in braids. Lexa wears tribal face paint on the battlefield or on ceremonial occasions, but is otherwise seen without it. She is rarely seen without the Commander's emblem on her forehead.
Relationships
Anya
Lexa was Anya's second (apprentice) before she became the Commander, and Anya has since become a high-ranking leader in Lexa's army. Lexa sends Tristan to take over Anya's unit when Anya fails to defeat the Delinquents, effectively demoting her. Even then, Anya shows concern for Lexa and wants to send her fastest rider to warn Lexa as soon as she is alerted of the presence of Reapers.
After escaping from
Mount Weather
with
Clarke
, Anya is confident that due to her past as Lexa's mentor, she can get an audience with Lexa to discuss working with the
Sky People
. In "
Long Into an Abyss
", Lexa begins trusting Clarke after learning that Clarke had been working together with Anya. Lexa is shown to care for Anya, such as wanting to know if Anya died well.
Gustus
"If you so much as look at her the wrong way, I will slit your throat."
- Gustus to Clarke about Lexa
Lexa is Gustus' leader and Gustus is presumably her personal bodyguard and/or a high-ranking warrior from her clan. Gustus is very protective and holds high respect for Lexa. He pretends to be the Commander in "Fog of War" so that Lexa can gather information from the imprisoned Jaha and Kane.
Ultimately, it is Gustus' loyalty to Lexa that gets him killed. In "Remember Me", he tries to ruin the alliance between the Grounders and the Sky People so as to keep Lexa safe. When his sabotage is discovered, Lexa sentences him to Death by a Thousand Cuts. Gustus accepts his punishment and tells Lexa to "be strong" before she kills him.
Clarke notes in "
Bodyguard of Lies
" that Lexa cared for Gustus, despite pretending otherwise.
Marcus Kane
"I spent time with your Commander. She's a visionary."
- Kane to Lincoln about Lexa
Lexa and
Marcus Kane
first meet when she has him imprisoned in "
Fog of War
". Lexa gains respect for Kane after learning that his desire for peace between their people is genuine. Following his imprisonment, they spend some time together and Kane comes to believe that Lexa is a visionary who would be open to negotiations between their people.
Clarke Griffin
Main article: Clarke and Lexa
Lexa and Clarke Griffin start off as enemies as Lexa's people and Clarke's people are at war for the entire first season and the first half of the second season. They officially meet in "Long Into an Abyss", when Clarke approaches Lexa in order to put aside their differences and create peace between their people.
The pair are shown to be alike in some ways, and they grow closer as they work to save their people from a common enemy. They share a mutual respect and the task of leadership over their allied clans, often making hard decisions together. They kiss in "Bodyguard of Lies"; however, Clarke tells Lexa that she is not ready for a relationship so soon after Finn's death under Lexa's orders. Their relationship becomes strained after "Blood Must Have Blood (Part 1)", when Lexa betrays the Sky People by retreating from Mount Weather in order to save her own people.
They reunite in the third season, when Lexa has Clarke brought to Polis. As Lexa works to bring peace to their people, Clarke forgives her and they become allies again and later lovers. Lexa's Flamekeeper, Titus, disapproves of their relationship and during an attempt to kill Clarke, shoots Lexa by accident instead. Despite Clarke's desperate attempts to save her, Lexa's physical body dies from her wound in "Thirteen". Because Lexa's consciousness is saved in the Flame, Clarke is able to summon Lexa to aid her in the City of Light in "Perverse Instantiation (Part 2)". Lexa protects Clarke from A.L.I.E.'s Cult, and Clarke declares her love for Lexa before they are forced to part ways once more.
Clarke continues to mourn Lexa long after her death. Josephine Lightbourne, for example, notes in "Nevermind" that Clarke still cries when she thinks of Lexa, six years since her death. Other characters also bring Lexa up in conversations with Clarke, sometimes to try to sway her opinion or to taunt her.
In the fifth season, Clarke's adopted daughter, Madi Griffin, is given the Flame and Lexa's consciousness is thus able to communicate with Madi. In "Damocles (Part 1)", Lexa tells Clarke, through Madi, that abandoning Clarke at Mount Weather is her biggest regret in an attempt to keep Clarke from making the same mistake. Lexa's message helps Clarke decide to do the right thing in the end, while also driving her to tears.
The
series finale
sees Clarke take a
test
to determine the fate of the human race. During the test, the
Judge
takes on the form of Lexa because she was Clarke's greatest love.
Costia
Lexa and Costia were lovers until Costia's death at the hands of the Ice Nation. In "Remember Me", Lexa tells Clarke that Costia was captured because Queen Nia believed that she knew Lexa's secrets. Because Costia belonged to Lexa, she was tortured and had her head cut off. Lexa claims to have gotten over the pain of her death by recognizing that love is weakness. However in "Bodyguard of Lies", Clarke accuses Lexa of still being haunted by Costia's death despite pretending otherwise.
In "
Ye Who Enter Here
", the Ice Nation ambassador references Costia's death to taunt Lexa about her "weakness" for Clarke. Lexa kills Queen Nia in "
Watch the Thrones
", uttering "
jus drein jus daun
" (blood must have blood) before she does so, hinting that this may have partly been punishment for Costia's death. When
Titus
comes to worry about Lexa's feelings for Clarke in "
Thirteen
", he reminds Lexa about what happened to Costia. Lexa is enraged and assures him that she can separate her feelings from her duty, noting that she still let the Ice Nation into her
Coalition
despite what they did to Costia.
Nia
"I want her head."
- Nia to Roan about Lexa
Lexa and Queen Nia have a very hostile relationship. Before the Coalition was formed, the Woods Clan (Lexa's clan) and the Ice Nation (Nia's clan) were at war with each other. At some point, Nia had Lexa's lover, Costia, captured and tortured for information on Lexa. Costia was eventually killed, and her head was cut off and delivered to Lexa's bed. Despite this, Lexa still allowed the Ice Nation to join her Coalition under the condition that Nia's eldest son, Roan, was to be banished[7].
In "
Ye Who Enter Here
", Roan tells
Clarke
that if she assassinates Lexa, she will gain a grateful ally in Nia. Meanwhile, Nia plots with the Ambassadors of the 12 Clans to free her son and kill Lexa. Nia's plan to overthrow Lexa is revealed in "
Watch the Thrones
". Nia tells Clarke that her quarrel is with Lexa and that she is willing to keep the
Sky People
safe if they side with her against the Commander. Later in the episode, Lexa kills Nia by throwing a spear into her chest. Before throwing the spear, Lexa utters "
jus drein jus daun
" (blood must have blood), hinting that this may have partly been punishment for Costia's death.
Titus
"You're special, Heda. I've been the Fleimkepa for four Commanders. No one has done what you have."
- Titus to Lexa
Titus is Lexa's Flamekeeper and teacher. He raised her when she was young, along with the other Nightblood children in Polis. According to Luna, Lexa was his favorite Nightblood.
Titus cares deeply for Lexa and holds her in extremely high regard. He tells Lexa in "Ye Who Enter Here" that she is special and has achieved more than any other Commander. In "Watch the Thrones", he tries to dissuade her from fighting Roan on her own. During the fight, he collapses onto his chair with worry when she looks to be losing, and is visibly relieved when she ends up beating Roan.
Titus disapproves of Lexa's relationship with
Clarke
, fearing that it will endanger her life and prevent her from fulfilling her duty to her people. Lexa disagrees but understands that Titus means well. In "
Thirteen
", he attempts to kill Clarke but accidentally shoots Lexa instead. A grief-stricken Titus begs the dying Lexa for forgiveness. He tells Clarke in "
Stealing Fire
" that of all the Commanders he has served, none were half as wise or strong as Lexa. After helping Clarke keep the
Flame
out of
Ontari
's hands, he slits his own throat saying that this is "for Lexa".
Aden
Aden is one of the Nightblood novitiates training to potentially succeed Lexa as the Commander one day. In "Ye Who Enter Here", Lexa and Aden are seen sparring during a training session. She praises him when he manages to block her attacks, then looks shock when he lands a hit on her. Lexa tells Titus that Aden is ready for the Conclave and admits that he is a better fighter than she was at his age.
Lexa introduces Clarke to Aden in "Watch the Thrones". She tells Clarke that Aden is her most promising novitiate and that he will likely succeed her should she die in her duel with Roan. Later that day, Aden is present during Lexa's fight and is visibly relieved when she wins.
After Lexa's death, Aden reassures Clarke in "
Stealing Fire
" that all the Nightbloods will honor their word to support the
Sky People
should one of them become Commander because they all loved Lexa. Clarke later asks Titus what they can do to make sure Aden wins the
Conclave
, noting that he was Lexa's choice. Titus replies that Lexa's spirit will choose Aden.
Luna
As Nightbloods, Lexa and Luna grew up together in Polis, training with their class of novitiates as potential successors to the Commander. After the previous Commander died, they were matched up to fight each other to the death in the second round of their Conclave. Luna tells Clarke in "Red Sky at Morning" that she fled before their fight so that she wouldn't have to kill Lexa.
In return,
Titus
tells Clarke in "
Stealing Fire
" that Lexa refused to let him hunt down and kill Luna.
Appearances
Quotes
Killed Victims
Notes and Trivia
The character was named after Alexandria, a city in Virginia, close to Washington, D.C.[10]
The reason Lexa's hair was covered when she first appears is because her braids were so intricate that she'd need to have help with them,[13] which would defeat the purpose of her disguise from Kane and Jaha.
Lexa is a few years older than Clarke,[14] although Alycia Debnam-Carey, who plays Lexa, is a few years younger than Eliza Taylor, who plays Clarke.
When creating her character, Lexa was originally imagined as a child around ten or so, but the idea was scrapped due to restrictions on working with children.[15]

This original character concept was used for Madi, her successor, in Season Five.

When Lexa told the Ice Nation Ambassador "I have a message for Queen Nia", she not only killed him to show that she's not weak, but to send a clear message to Azgeda that Trikru and the other clans will not go down without a fight and will never surrender to Queen Nia.
Lexa is the first Commander to have dominion over all 12 Grounder Clans,[5][6] unifying them under her Coalition.

Lexa is the highest ranking Grounder as the Commander of the 12 Clans.
After inducting the Sky People as the thirteenth clan of her Coalition, she becomes the first Commander to have jurisdiction over the Sky People.
Lexa has been the Commander for at least three wars: one with the Ice Nation, one with the Sky People, and one with Mount Weather.
Titus states that he served four Commanders before Lexa, making Lexa the fifth Commander he has served.

She was the only true Commander to lead the Coalition in the former eastern United States. Ontari, her direct successor, was never in possession of the Flame and by the time Madi, her true successor, bore the Flame, the Coalition had already been succeeded by Wonkru.
If the Ascension Day Lexa was celebrating in "Thirteen" was her own, that would mean her reign as Commander started and ended on the same day years apart.
Lexa was the first character revealed to be LGBT+.

Lexa's death sparked outrage due to her being one of the most recent of a string of copious LGBT+ character deaths on TV shows and was completely unnecessary.
TVLine ranked Lexa's death as the most heartbreaking death of the entire series.[16]
Jason Rothenberg cited Lexa's death as his biggest regret of the entire series.[17]
Gallery
See Also
References
Community content is available under
CC-BY-SA
unless otherwise noted.