"
You saved me and I don't just mean by opening that door.
"
— Kane to Abby
Kane and Abby was the relationship between Marcus Kane and Abigail Griffin. They were portrayed by cast members Henry Ian Cusick, Greyston Holt and Paige Turco, and début in the first episode of Season One.
Summary
On the Ark, Abby and Kane constantly had opposing views. Kane saw Abby as a threat to his goals and frequently had her arrested and even almost floated her once due to his strict rule-following and her bending of the rules. Later, in The Calm, he seems to start caring for Abby, saving her life when he is exploring the other deck to look for survivors. On Earth, Marcus is the first person to follow Abby out of the Ark ship once it lands.
In The 48, they go out looking for the Camp of the Delinquents and Clarke together. After Abby gives guns to the Delinquents to help them escape and look for Clarke and the others in Inclement Weather, Marcus sentences her to shock-lashing in Reapercussions. Following, Marcus tells Abby he's leading a peace mission to get the kids back before passing along the Chancellorship to her. Marcus returns to Camp Jaha in Spacewalker and the two rejoice at the sight of each other. In Resurrection, Abby finds Marcus trapped under rubble after the missile hits Tondc. He is pulling on a piece of metal to make noise and she grabs his hand to stop him. Abby tries to help him and he tells her to leave him and go find Clarke until Abby explains that Clarke escaped as she already knew about the attack. When rocks fall down and trap them both further, they talk about how their actions on the Ark have influenced Clarke and the sins they have to answer for. In Blood Must Have Blood (Part 2), after they are captured by Mount Weather and Abby has her bone marrow extracted, they return to Camp Jaha, holding hands.
In
Wanheda (Part 1)
, it is revealed that Abby is still looking for Clarke in the three months after the
Mount Weather War
, and Marcus is helping her, as she still holds the Chancellorship. However, in
Watch the Thrones
, she loses it to
Charles Pike
in an impromptu election demanded by Marcus when almost the whole camp votes for Pike instead of him. The two still remain a team, despite the new challenges that arise thanks to Chancellor Pike, for instance negotiating with the grounders who have been betrayed by Pike, and owing to the return of
Jaha
to Arkadia, with his new ideas about the
City of Light
. In
Bitter Harvest
, Abby kisses Marcus on the cheek, in order to give him "hope". They are seemingly separated until
Stealing Fire
.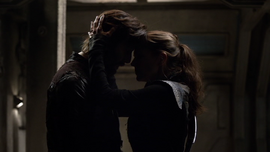 Marcus is to be executed along with
Lincoln
and
Sinclair
by Pike for his crimes against the Chancellor but the three men are freed by
Harper
,
Miller
,
Bryan
,
Octavia
, and Abby to leave Arkadia and escape the punishment. Abby, however, decides to stay behind. In response, he kisses her passionately and says, "May we meet again," to which she responds, "We will." The two then do not meet again until
Join or Die
, when Marcus goes to
Polis
to accompany Pike and survey the grounders' torture of him. Abby is there also, with Thelonious Jaha (as he and
A.L.I.E.
are chipping the grounders there, having chipped
Ontari
, their acting Heda, first). Marcus is thrown into a room in the tower, Abby entering shortly afterward and pretending to be unchipped in order to obtain
Clarke's
whereabouts from him. She seduces him but he soon discovers it's not her. Abby has him crucified for his resistance. However, Marcus' defiance wavers when Jaha threatens to kill Abby, and he takes the chip for her. Later, in
Perverse Instantiation (Part 2)
, they do not reunite until the ending when Clarke shuts down the City of Light and all the chipped victims are saved. Abby and Marcus share an embrace while crying, to comfort each other.
In 
Heavy Lies the Crown
Abby and Kane sleep together.
  Later in the episode Abby removes her necklace that held her wedding ring from her marriage to
Jake Griffin
, before telling Kane that she is no longer needed at Polis and must return to Arkadia. They spend the majority of the season separated from one another, communicating only by radio. In
The Other Side
Abby learns that Kane has been locked outside of the bunker by Clarke and Jaha. She teams up with
Bellamy Blake
. She drugs Jaha, knocking him out. Her and Bellamy work together to open the bunker door, letting Kane and
Octavia Blake
inside. As a result only 100 members of Skaikru can remain in the bunker and 384 people have to be sacrificed. Abby is given a spot because she is essential personnel, the remaining spots are filled by lottery. Abby asks Kane to pick 81 names from the bowl, effectively giving her spot to someone else, she says she will be outside during
Praimfaya
.  When Kane protests she tells him that she loves him, but she has made her decision. There is nearly a riot, so Jaha and Kane gas Skaikru, knocking everyone unconscious. Kane does not follow Abby's wishes, and keeps her inside the bunker.
Throughout the Series
Quotes
Notes and Trivia
Gallery
See Also
Community content is available under
CC-BY-SA
unless otherwise noted.