"
Because today, I am the commander of death.
"
— Emori to Clarke
Emori is a recurring character in the second, third, fourth, fifth, sixth, and seventh seasons. She is portrayed by cast member Luisa d'Oliveira and debuts in "Rubicon".
Emori was a Nomadic Grounder who traveled through the desert with her brother as they searched for the alleged "City of Light." She was born with a deformed hand, for which she was cast out into the desert. Along with her brother Otan, Emori started working for A.L.I.E. collecting pieces of technology. She later became good friends with John Murphy, then they became girlfriend/boyfriend.
In Season Four, she worked with the Sky People to figure out a way to survive the Praimfaya. Running out of options, and the impending danger of Raven Reyes, she would travel to Becca's Island with John, Bellamy Blake Clarke Griffin, Harper McIntyre, Monty Green, and Echo to save Raven survive the apocalypse, where they would launch themselves to The Ark to save themselves.
In Season Five, 6 years go by in space on the Ark, where she became good friends with Raven and the others, learning all about mechanics and how to fly the rocket. Upon landing back on Earth, she regrouped with Clarke and the survivors of Wonkru to join forces in fighting against the Eligius Prisoners for the Shallow Valley, the only known place on Earth that is survivable. But when the bomb is launched at the Valley, Emori, along with Wonkru and remaining Eligius Prisoners are forced to board Eligius IV as Earth is no longer habitable, and travel to a new habitable world.
In Season Six, she and John Murphy became Nightbloods with their new Mind Drives inserted into the back of their necks, while they were posing as Daniel Lee and Kaylee Lee. While posing as Daniel Lee and Kaylee Lee, she and Murphy begin helping their friends save both of their people and the people of Sanctum.
In Season Seven, she and Murphy continue their relationship while posing as Daniel and Kaylee to help keep the peace amongst the various factions on Sanctum. After Sheidheda takes over Wonkru and Sanctum, Emori helps Murphy protect the survivors of the Dark Commander's massacre and to resist his reign. After being mortally wounded, Emori's physical body dies but Murphy resurrects her by using his own body as a host for her Mind Drive despite the risks to himself. Emori transcends with the rest of the human race, but joins Clarke's friends in returning to Earth, with her original body now restored, to live out their lives.
Early Life
Edit
Emori was born with a deformed hand due to radiation and because of that, her people considered her a stain in their bloodline. Normally, when a Grounder child is born with a deformity they are cast out and left to die. At some point in Emori's life she, along with her brother, began working for A.L.I.E. collecting pieces of tech.

Throughout the Series
Edit
Personality
Edit
Emori is very cunning and intelligent individual. She is also shown to be very distrustful of strangers and will sacrifice anything for her own survival. She usually still wears a glove to cover her mutated hand, but in Season Five, her personality changes a lot. She has a softer side and doesn't show her aggressive side. She is naturally curious and is interested in learning new things, especially engineering and mechanical things, so became Raven's assistant. She also stopped wearing her glove as often; especially around Spacekru.
Physical Appearance
Edit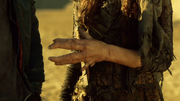 Emori is of average height with dark brown hair and brown eyes. She has olive skin and has a tattoo on her face. One of her hands is deformed which she keeps covered up. She wears Grounder clothing and a bandana.
In Season 5, after the six year jump, Emori's dark brown hair was cut shoulder length and she no longer covered her deformed hand. She still wears a bandana, but it is newer and her clothing appears to be of Ark regulation.
Relationships
Edit
John Murphy
Edit
"Good luck, John."
- Emori wishing John Murphy good luck on his journey.
Main article: Murphy and Emori

Emori meets Murphy in Rubicon. The two seem to hold a certain respect for one another because neither one of them judges the other one after they share their stories of how they ended up in the Dead Zone. Later on, Emori leads Murphy and the people he is with into a trap, however, she tells Murphy to "Due North" before knocking him out. When Murphy wakes up, he assumes that she is talking about the City of Light and leads his group North.
The two reunite in Wanheda (Part 1) and begin a romantic relationship in Hakeldama. They break up during the 6 year time jump but they finally reconciled.
Appearances
Edit
Season Two
Emori (to Thelonious Jaha): "My brother and I were on our way to The City of Light, and Wastelanders attacked. They took our horse, all our water, everything. They killed him. This cart is all I have left."
---
Emori (to Thelonious Jaha): "Everyone in the Dead Zone is looking for The City of Light. Almost no one finds it. I can get you there. If you pull my cart."
---
Emori (to John Murphy): "If I told you, you would not look at me the same."
---
Emori (to John Murphy): "My people saw me as a stain on the bloodline, something to erase."
---
Emori: "Everybody put your weapons and supplies in the cart and nobody gets hurt."
Thelonious Jaha: "If we give you our supplies we all die out here."
Emori: "If you don't you'll die right here."
--Rubicon
Season Three
Emori: "Hey, stranger, care for a bite?"
John Murphy: "Emori, what the hell are you doing here?"
Emori: "Cooking rats. The old vendor was brutally attacked on the road. It's dangerous out there."
John Murphy: "Yeah. Clearly, it is.
Emori: I have been looking for you ever since you were taken, and then I heard rumors of the new Heda's handsome Skaikru Flamekeeper. I knew it had to be you. I taught you well. She's one hell of a mark, John."
--Demons
---
Thelonious Jaha (about her hand): "Emori, you know you can correct your defects.
Emori: "I would if I had any."
Season Four
Emori (to Clarke Griffin): "I was cast out of my clan as an infant because of this. I was forced to steal to survive. Forced to kill. You were loved. Told you were special. I was thrown away like someone's garbage. You know nothing of my pain."
Killed Victims
Edit
Notes and Trivia
Edit
See Also
Edit
References
Edit
Community content is available under
CC-BY-SA
unless otherwise noted.