"
I bear it, so they don't have to.
"
— Clarke Griffin
Clarke Griffin is a major character in the first, second, third, fourth, fifth, sixth, and seventh seasons. She is portrayed by starring cast member Eliza Taylor and debuts in the series premiere.
Clarke was part of the 100, a group of juvenile delinquents from the Ark who were sent to Earth. Prior to being locked up, Clarke was a medical apprentice, following in her mom's footsteps, and used those skills to serve as the medic on the ground. After several deaths on the ground, Clarke became a co-leader alongside Bellamy Blake. While in charge, she tried to negotiate a peace treaty with Anya and helped lead the defense against the army of Grounders attacking their camp.
After successfully defending the camp, Clarke and 47 other delinquents were taken by the Mountain Men. She escaped Mount Weather and found her way to Camp Jaha, the new settlement set up by The Ark. Clarke helped create an alliance with the Grounder Coalition, led by Commander Lexa, to fight the Mountain Men. However, the Grounders broke the alliance, forcing Clarke and Bellamy to irradiate Mount Weather. Unable to come to terms with what they did, Clarke sets off on her own.
Among the Grounders, Clarke's reputation spread, eventually gaining her the moniker of Wanheda, the Commander of Death. Three months later, she was captured and brought to Polis, where she became the Sky People's Ambassador. After the death of Lexa, Ontari became the Commander by ruse. Clarke escaped Polis, and began looking for Luna with several others. They found Luna's clan, but she refused to become the Commander. Meanwhile, A.L.I.E. had taken over Arkadia and Polis. To stop A.L.I.E., Clarke entered the City of Light and pulled A.L.I.E.'s kill switch, but not before learning that the nuclear power plants were melting down.
Following A.L.I.E's defeat, Clarke warned everyone about the impending nuclear apocalypse, as she began to prepare for the survival of the human race. On Becca's Island, Clarke and company tried to create a Nightblood serum which was revealed to give immunity to radiation. To test for the serum's success, they performed trials on subjects by exposing them to radiation, but when Emori was forced to be a subject, Clarke injected herself with Nightblood to carry out the experiment personally. After escaping to the Second Dawn Bunker, Clarke and others left to bring Raven back from the island, but ended up running out of time. Their group decided to use a rocket to go to space. Unfortunately, Clarke was left behind in order to save her friends and suffered from severe radiation poisoning. However, she survived due to her Nightblood. For six years, Clarke lived in the valley with another young Nightblood, named Madi, whom she cared for.
Clarke and Madi were living happily together in the valley when a prison transport ship landed there. It became clear that they were hostile and Clarke was taken prisoner before being rescued by Spacekru. After the bunker is opened, Clarke spent most of season five trying to protect Madi and stop her from becoming Commander, since that would put her in danger. Clarke betrays Spacekru, Wonkru, and eventually the Eligius Prisoners as well, all to keep Madi safe. At the end of the season, Clarke finally allows Madi to fulfill her destiny of becoming Commander and leading Wonkru to victory over the prisoners. When Paxton McCreary realized he had lost, he sent a bomb containing Hythylodium to destroy the valley. Clarke killed him and joined the remaining survivors as they took off to safety aboard Eligius IV. She made amends with her friends and went into cryosleep with the others. She and Bellamy were awoken by Jordan Green 125 years later while Eligius IV hovered around the habitable moon, known as Sanctum.
Clarke went down with the others in a group to explore Sanctum. Meanwhile, some of Clarke's friends, including Raven, were still angry with Clarke for her previous betrayal. Later, they explored the settlement on Sanctum. She talked with Russell Lightbourne about staying. Soon after Russell found out that she's a Nightblood, he put Josephine Lightbourne's Mind Drive into Clarke. However, while Josephine had control over her body, Clarke's mind continued to exist thanks to her experiences with A.L.I.E. As she wrestled for control of her body, Clarke faced her demons and reflected on her past actions that had broke her. Josephine later relinquished control to Clarke out of self-preservation, but Clarke continued her quest to get rid of Josephine for good. Though the two briefly worked together, Clarke ultimately killed Josephine when she proved impossible to remove from Clarke's body. Clarke subsequently led the effort to defeat the Primes and succeeded, but ended up losing her mother in the process.
With the Primes defeated, Clarke reconciled with her friends and briefly became the de facto leader of Wonkru, trying to keep the peace among the different groups in Sanctum. Following the news of her missing friends, Clarke led a group to rescue them and encountered the Disciples. After arriving in Bardo, Clarke discovered that the Disciples believe she still bears the Flame which they need to start a "war". Clarke refused to help them but was too late to stop Bill Cadogan, though the "war" turned out to be the Judge's test.
When the human race achieves transcendence, Clarke is left behind due to her murder of Cadogan during the test. Settling on a restored Earth, Clarke is joined by her surviving friends, all of whom chose to give up transcendence so that she wouldn't be alone.
Early Life
Clarke was born and raised by two loving parents in a comfortable living situation on The Ark. Her mother, Abby, was the chief of medicine and her father, Jake, was the chief engineer. Clarke's parents were good friends with Chancellor Thelonious Jaha and she was best friends with the Chancellor's son, Wells Jaha. Following in her mother's footsteps, Clarke became a medical apprentice.
In a video from Clarke's childhood, Clarke and Wells practice for the Unity Day Celebration. As Thelonious records their practice, Wells asks his father how the Ark stays in space. Clarke mentions that her dad told her it is the thrusters. Thelonious tells her that her father is correct.
A year before the delinquents are sent to earth, Clarke overhears a conversation between her parents, discussing a flaw in the Ark's life-support system and that it is failing. Later that day, Clarke plays chess with Wells. Clarke, distracted by the news, starts losing the game. Wells notices something is wrong with Clarke and questions her. Clarke swears him to secrecy and tells him about the flaw as well as her father's plan to go public.
After coming home, Clarke overhears her father making a video revealing the truth about the Ark's oxygen crisis. She confronts him about the truth and yells at her father, calling him suicidal or dumb because he plans to break into the communications mainframe. Clarke insists on helping him but her father tells her no. Moments later, the door to their home opens and the Ark Guard arrest Jake for treason. Clarke hugs him and promises to warn the people. She struggles with the guards who hold her back as her father is taken away.
Clarke finds her father before his execution and is able to say one final goodbye before Jake is floated for his crime. Clarke watches as her father is sucked out of the airlock and cries in her mother's arms. Clarke repeatedly apologizes, thinking her father's death was her fault. Her mother insists it was not her fault. After her father is floated, Clarke is immediately arrested for treason and sent to solitary confinement in juvenile lockup.[1]
Throughout the Series
Personality
Clarke is headstrong, determined, dependable, and intelligent. As a natural born leader who is capable of inspiring all around her, Clarke will contemplate and ask questions before acting. However, she has been shown to make impulsive decisions. She is also fair, selfless, caring, and loyal to a fault. Even after her father's death, Clarke shows a high level of devotion and admiration towards him. She is quick to call people out on their behavior. She has a natural maternal instinct, as shown when she comforts Charlotte and later protects her and also seen when she took on the mother role for Madi. While she certainly has a good head on her shoulders, she is quick to accuse and has displayed poor judgment which resulted in Charlotte's death.
Despite the harsh world she lives in, Clarke is fiercely determined to save everyone's lives, even if they do not particularly deserve to be saved; which is evident when she helps John Murphy, who once tried to kill her and is partially responsible for Charlotte's death. Finn Collins believed her desire to save everyone comes from the fact that she could not save her father. Clarke has a strong moral compass; even to the point of stopping Miller and other Delinquents from killing Anya, their enemy.
Unlike Bellamy Blake, her co-leader, Clarke is idealistic and sees no reason for torture, cruelty, or violence. She does not wish for violence or war and tries to avoid fighting. However, she will betray her beliefs to protect those she cares for; like when she and Bellamy agree on the torture of the grounder, Lincoln to save Finn Collins. She also agreed with Bellamy on bringing guns into camp for protection, even if she didn't like the thought.
Clarke tried to make the best decisions for the camp, which often lead to her undermining Bellamy's authority and rule. Clarke has a surprisingly keen mind for warfare and strategy, a trait that took Bellamy, Finn, and Raven Reyes completely by surprise.
Clarke is described as a natural born leader, especially by her mother; who mentions Clarke got her leadership qualities from her father. Clarke's father once mentions she gets her stubbornness from her mother. She has often shown maturity and wisdom beyond her age. Though Clarke can be rather blunt and closed off, she does have a vulnerable side, which she only shows around those she loves and cares for. Like her mother, she is a healer and puts her skills to good use.
Clarke is also portrayed as artistic being one of her strengths, which was first seen as she drew along the walls of her cell in the first episode of the series.
In Season Five, the aftermath of the Second Nuclear Apocalypse causes Clarke to mentally lose her own sanity and her hope in humanity, and begins to forget who she is, and only becomes interested in protecting Madi, thus leading her to become ruthless and reckless. The events of the aftermath of Praimfaya, also causes Clarke to lose her own humanity. Her actions damages her relationship with her friends, including Raven. It also implies that the deaths of her loved ones, and the deaths of many people at Mount Weather, made her a dark person.
In Season Six, Clarke's reckless actions has caused her to become haunted, remorseful, and heartbroken, as some of her friends, including Raven, begins to get upset at her for her own ruthless ways. Because of this, Clarke wants to seek redemption for her ruthless actions, thus making her promise to protect everyone she cares for and the rest of humanity. It also helps her restore her mind and soul to never repeat the same mistakes again, bringing back her own humanity.
After Abby's death, Clarke becomes staunchly determined not to lose any more of the people she cares about, repeatedly risking her own life to save her friends. She initially tries to avoid unnecessary killing, but when the Disciples start targeting Madi, she becomes increasingly single-minded in her desire to protect Madi above all else. All this culminates with Clarke killing Bill Cadogan during her test with the Judge, in revenge for Madi's capture and torture. Despite Clarke's reckless behavior, the Judge acknowledges all the sacrifices Clarke has made and all the pain she has suffered. After most of humanity transcends, Clarke reunites with her friends on Earth, at peace with the knowledge that Madi is finally safe.
Physical Appearance
Clarke is a young woman with pale complexion, blue eyes, a round face, dimple chin, and blonde hair. Her hair is often pulled back in a half-up/half down style throughout season one. Clarke is 5'4" (1.65 m) and has a medium to slim physique. Clarke is also shown wearing earrings.
She usually wears thermal long sleeve shirts with crochet cuffs combined with a jacket, dark jeans, and boots. She is often shown in dark colors such as; black, gray, navy blue, dark green and tan.
While in Mount Weather Quarantine, Clarke was seen in stark white clothing, a tank top, and capris. After being released from quarantine, she was seen in pastel colored clothing, a pale pink singlet, a light blue jacket and light blue capris.
In Season Three, Clarke has adapted a style very similar to the Grounders, including braided hair and war paint. For a short time she disguised herself with red hair, but it was washed away when Roan tried to drown her.
In 2156, Clarke has shoulder length blonde hair with streaks of red.
On Sanctum, Clarke is seen wearing a black suit, as she wore it while posing as Josephine Lightbourne. She has since swapped the black suit for a black jacket and black skirt.
Relationships
Abigail Griffin
Main article: Clarke and Abigail
"Earth, Clarke. You get to go to Earth."
- Abigail to Clarke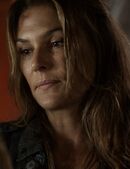 Clarke is Abigail Griffin's daughter. Before Clarke is sent down to Earth in the "Pilot", Abigail tells her to be safe and that she loves her. After, Abigail closely watches over Clarke's vitals. While on Earth, Clarke learns the truth about her mother's involvement in her father's death in "Earth Kills". This causes a rift between Clarke and her mother. To punish her mother for her father's death, she takes her wristband off, letting Abigail believe her to be dead. When Raven Reyes makes contact with the Ark in "Contents Under Pressure", Clarke confronts her mother and tells her she knows the truth. Abigail tries to apologizes explain his death was never supposed to happen. Clarke truly believes she will never be able to forgive her mother for turning in her father. When Clarke believes her mother to be dead in the Exodus ship crash, she is devastated.
When they are reunited in "Human Trials", Clarke is happy to see her but their relationship is strained. Clarke goes behind Abby's back to the point of usurping her authority on numerous occasions. Abby often disagrees with the decisions Clarke makes in regards to the people. Tensions escalate in "Coup de Grâce" when Clarke tells her mother that even though Abby is the Chancellor, Clarke is the one in charge. In "Resurrection", when Abby finds out that Clarke knew ahead of time about the bombing of Tondc, she is appalled that her daughter would do such a thing and begs her to not forget they are the good guys. By "Blood Must Have Blood (Part 2)", Abby has come to realize the difficult choices her daughter has had to make are not so different than the choices she made on The Council and tells her daughter that maybe there are no good guys.
Abby and Clarke are reunited in "Ye Who Enter Here" when Abby and Marcus Kane travel to Polis to negotiate a peace treaty. When Azgeda blows up Mount Weather, Abby returns to Arkadia while Clarke stays in Polis to represent Skaikru. Abby and Clarke meet again in "Perverse Instantiation (Part 1)". At this point Abby has taken the chip and become a member of A.L.I.E.'s Cult, she tortures Clarke so she will tell them where the A.L.I.E. 2.0 is. When she refuses Abby hangs herself in order to force a confession, Clarke still will not divulge the location of A.L.I.E. 2.0. In "Perverse Instantiation (Part 2)" Clarke uses the EMP to fry Abby's chip. Abby helps connect Clarke to Ontari so Clarke may enter to the City of Light and defeat A.L.I.E.. While Clarke is in the City of Light Abby protects her daughter.
In "The Dark Year", Abby revealed that she was responsible for the cannibalism, during the "Dark Year" in the Second Dawn Bunker and for Octavia's dark nature. However, out of altruistic reasons, Clarke forgives her and does not hate her for it, suggesting that she only hated Abby for killing her family member, which was her father.
In "
Adjustment Protocol
," Clarke initially has to lie to her mother that she is dead due to her masquerade as
Josephine Lightbourne
, but later tells her the truth. Clarke is reduced to tears when she realizes that Abby has been mind wiped to become the new host for
Simone Lightbourne
. In "
The Blood of Sanctum
," Clarke maintains a degree of hope that Abby also survived due to a
neural mesh
, but this is dashed when Russell confirms that Abby's neural mesh was destroyed by the EMP. When Simone pretends to be Abby, Clarke doesn't allow her hope to blind her and tests Simone who fails. When Clarke
floats
the
Primes
, Simone grabs onto her and Clarke has the chance to potentially save Simone. However, Clarke accepts that her mother is gone and shoves Simone off so that she is blown into space, taking Abby's body with her. Losing Abby along with Madi's state nearly pushes Clarke to suicide when it appears impossible for Clarke to save her daughter. Clarke later tells Bellamy that she tried to do better until she lost Abby and seeks reassurance that they did the right thing.
Bellamy Blake
Main article: Clarke and Bellamy
"Her friends are her weakness. Start with Bellamy Blake."
- Abigail Griffin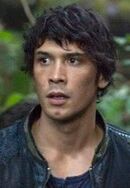 The relationship between Clarke Griffin and Bellamy Blake starts out antagonistic towards each other. In the beginning, Bellamy shows a great amount of animosity towards Clarke and considers her to be "privileged". Bellamy looked down on Clarke because of her upbringing on the Ark. Meanwhile, Clarke often disagrees with the decisions Bellamy makes.
As Season One goes on, however, their relationship develops into a partnership. Their partnership grows into a friendship filled with mutual respect and trust. They are both shown to care if the other lives or dies.
Clarke and Bellamy have been known to clash on many different occasions. This often leads them to be on the opposite sides of an argument. The two have also been known to contradict one another. One such occasion is when Bellamy makes a speech about staying at camp and fighting the Grounders. Minutes later, Clarke makes a contradicting speech about surviving to fight another day and that they should leave camp.
Clarke shows great concern for Bellamy during the fight with the Grounders. She refuses to close the door until Bellamy is back. When Clarke is forced to leave both Bellamy and Finn Collins outside to die, she is shown to be remorseful as she closes the Dropship door.
In Season Two they are reunited after Clarke escapes Mount Weather. They then set out to go find Finn along with Octavia. Bellamy is seen supporting Clarke and is worried when she gets injured close to the dropship. Shortly after Finn's death, Clarke agrees with the plan to send Bellamy to Mount Weather, stating she was weak by caring too much. Throughout Bellamy's mission, Clarke stays in contact with him, concerned about his wellbeing.
Together they make the decision to pull the lever, causing radiation to enter and killing all the Mountain Men. This action causes Clarke to feel a crushing guilt and opposed to returning to Arkadia she chooses to departure on her own after saying goodbye to Bellamy.
In the third season Bellamy is worried in learning that Clarke is being hunted. He goes to great lengths to find her and he is disappointed when she chooses to stay in Polis as an ambassador. Their relationship is strained for a while after that, and things get worse when Clarke learns that Bellamy was responsible for the grounder massacre. She tries to reason with him, which is where he expresses his pain over her leaving after what they did at mount weather.
After Clarke returns to Arkadia with the flame she teams up with Bellamy and the other members of the resistance to find Luna. After being rejected by her they come up with a plan to use Ontari, and they head to Polis together. In this conversation, Bellamy expresses his concerns about trusting Roan, to which Clarke replies she trusts him. Once in Polis, Murphy notes that he is not the only one trying to save someone he cares for, suggesting Clarke is important to Bellamy. This is confirmed the other way around when a chipped Abby says Clarke's friends are her weak spot, and she suggests they torture Bellamy. Later, Bellamy supports Clarke's decision to enter the City of Light after which Clarke reveals the truth about Earth's nuclear instability to him.
By
Season Seven
, Clarke and Bellamy consider themselves to be best friends. However, their friendship is destroyed when Bellamy betrays his friends and joins the
Disciples
. In "
Blood Giant
," Clarke reluctantly shoots and kills Bellamy in order to stop him.
Finn Collins
Main article: Clarke and Finn
"I love you, too."
- Clarke to Finn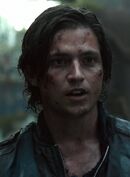 Clarke Griffin and Finn Collins quickly bond and become friends after the 100 land on Earth in the "Pilot". Finn figures out that Wells Jaha is in love with Clarke and encourages her to forgive him. He also helps Clarke come to the realization that Wells was not the one who turned her father in.
Clarke and Finn grow closer as they work together to protect Charlotte from John Murphy's vengeful wrath in "Murphy's Law". The same night, Finn learns that all of the wristbands have been fried and loses hope that they will be able to contact the Ark. Clarke tries to calm him down and the two end up having sex in the underground bunker. They sit under the stars afterwards and see a falling pod, believing it to be a shooting star. The next morning, Clarke is devastated when Raven Reyes appears from the pod and is revealed to be Finn's girlfriend from the Ark.
Throughout the rest of Season One, Clarke tries to distance herself from Finn although they still have romantic feelings for each other. In "I Am Become Death", Finn catches a sick Clarke when she falls, knowing full well that he may catch the virus Clarke has. Raven breaks up with Finn after this and sometime later, Finn confesses his love to Clarke. However, she rejects him because he broke her heart. During the final battle with the Grounders in "We Are Grounders (Part 2)", Clarke is shown to be very upset and regretful when she has to leave Finn outside the Dropship to die.
When Clarke and Finn reunite in Season Two, Clarke discovers that Finn has massacred a village of Grounders trying to find her. Clarke is horrified and has trouble facing Finn afterwards. Finn is remorseful for his actions and although Clarke tells him that he is savable, he has trouble believing it himself. Finn once again confesses his love to Clarke and though she is unable to say it back, she begs him not to run away. When the Grounders demand Finn's death in compensation, Clarke tries to save him by hiding him in the Dropship.
Finn ultimately gives himself up to the Grounders in "Spacewalker" to prevent the slaughter of his people. As the Grounders prepare to torture and kill him, Clarke tries to convince their leader, Lexa, first to show mercy to Finn, then to let Clarke take his place. Lexa refuses on both counts and Clarke asks to say goodbye instead. Clarke confesses her love to Finn before mercy-killing him to spare him from a painful death at the hands of the Grounders.
In "
Remember Me
", Clarke feels immense guilt over mercy killing Finn and begins seeing hallucinations of him. After coming to accept that "love is weakness" however, the hallucinations stop and she is able to move on.
Lexa
Main article: Clarke and Lexa
"I want you."
- Clarke to Lexa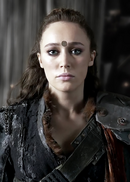 Clarke and Lexa start off as enemies as Clarke's people and Lexa's people are at war for the entire first season and the first half of the second season. They officially meet in "Long Into an Abyss", when Clarke approaches Lexa in order to put aside their differences and create peace between their people.
The pair are shown to be alike in some ways, and they grow closer as they work to save their people from a common enemy. They share a mutual respect and the task of leadership over their allied clans, often making hard decisions together. They kiss in "Bodyguard of Lies"; however, Clarke tells Lexa that she is not ready for a relationship so soon after Finn's death under Lexa's orders. Their relationship becomes strained after "Blood Must Have Blood (Part 1)", when Lexa betrays the Sky People by retreating from Mount Weather in order to save her own people.
They reunite in the third season, when Lexa has Clarke brought to Polis. As Lexa works to bring peace to their people, Clarke forgives her and they become allies again and later lovers. Lexa's Flamekeeper, Titus, disapproves of their relationship and during an attempt to kill Clarke, shoots Lexa by accident instead. Despite Clarke's desperate attempts to save her, Lexa's physical body dies from her wound in "Thirteen". Because Lexa's consciousness is saved in the Flame, Clarke is able to summon Lexa to aid her in the City of Light in "Perverse Instantiation (Part 2)". Lexa protects Clarke from A.L.I.E.'s Cult, and Clarke declares her love for Lexa before they are forced to part ways once more.
Clarke continues to mourn Lexa long after her death. Josephine Lightbourne, for example, notes in "Nevermind" that Clarke still cries when she thinks of Lexa, six years since her death. Other characters also bring Lexa up in conversations with Clarke, sometimes to try to sway her opinion or to taunt her.
In the fifth season, Clarke's adopted daughter, Madi Griffin, is given the Flame and Lexa's consciousness is thus able to communicate with Madi. In "Damocles (Part 1)", Lexa tells Clarke, through Madi, that abandoning Clarke at Mount Weather is her biggest regret in an attempt to keep Clarke from making the same mistake. Lexa's message helps Clarke decide to do the right thing in the end, while also driving her to tears.
The
series finale
sees Clarke take a
test
to determine the fate of the human race. During the test, the
Judge
takes on the form of Lexa because she was Clarke's greatest love
[2]
.
Wells Jaha
Main article: Clarke and Wells
"How can you ever forgive me?"
- Clarke to Wells.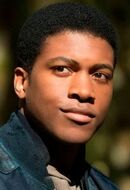 Clarke and Wells Jaha were best friends. They were best friends prior to being sent to Earth. It is shown that their families were close.
One day, Clarke told Wells that her father discovered that the Ark is dying. He promised he would not tell anybody. Later that night, Clarke's father was floated and she developed a hatred for Wells, believing him to have told his father.
Before Wells' death, the truth about Clarke's father's death is revealed.
Clarke and Wells
never got the chance to fix their friendship, as he was murdered the next morning.
Jake Griffin
"You get your stubbornness from your mother. That's what I love about both of you."
- Jake to Clarke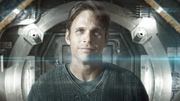 Clarke is Jake Griffin's daughter. They were very close while he was alive. Even after his death, Clarke speaks highly of her father and shows great devotion to him. Jake's death left her devastated and emotionally scarred. As a memento, Clarke continued to wear her father's watch.
Clarke overhears a conversation between her mother and her father and learns the Ark is dying. Clarke learns her father plans to tell the citizens of the Ark. Clarke offered to help with her father's plan but he refused her because he didn't want to involve her. When Jake was arrested and later floated Clarke blamed herself for his death. She believed she killed him by telling Wells Jaha of Jake's plans.
Clarke later learns, however, that his death was not her or Wells' fault. Clarke refuses to forgive her mother for the part she played in Jake's death.
Madi Griffin
Main article: Clarke and Madi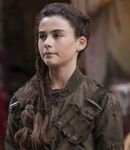 Madi is a young Nightblood that Clarke finds 58 days after the Second Nuclear Apocalypse. Their relationship started off combative due to Madi's belief that Clarke was a Flamekeeper. Eventually they are able to reconcile when Madi discovers Clarke is also a Nightblood.
During the 6 year gap, Clarke develops a strong maternal bond to Madi and treats Madi as her own daughter. From then on, Clarke is shown to be fiercely protective of Madi. In
Season Five
, she betrays her friends so as to prevent Madi from having to become a
Commander
. In
Season Seven
, Clarke kills her best friend
Bellamy
so as to protect Madi from the
Disciples
.
A.L.I.E.
As the leader of the Resistance Against A.L.I.E., Clarke acted as the AI's archenemy, working tirelessly to thwart her plans. In "Nevermore," A.L.I.E. meets Clarke through Raven who she possesses and learns of the extent of the threat Clarke posed to her. Despite this, A.L.I.E. stated in "Red Sky at Morning" that she still intended to offer Clarke the choice to join her rather than killing Clarke as a threat outright. When the two finally met face to face in "Perverse Instantiation (Part 2),", A.L.I.E. revealed the truth about the coming Second Nuclear Apocalypse to Clarke in an attempt to get Clarke not to pull the kill switch. Despite the AI's actions, Clarke offered A.L.I.E. the chance to do the right thing and offer people a real choice instead of coercing them into the City of Light, something that Clarke promised would cause her not to destroy the AI. However, when Becca confirmed that A.L.I.E.'s programing prevented this, Clarke chose to terminate A.L.I.E. and find another way.
Despite A.L.I.E.'s terrible actions, Clarke still believed her warning which motivated Clarke's actions during
Season Four
. Over 130 years later, Clarke's interactions with A.L.I.E. saved her life when
Russell Lightbourne
tried to mind wipe Clarke. A manifestation of A.L.I.E. appeared to help protect Clarke, against
Josephine Lightbourne
, noting that all she had ever tried to do was to protect Clarke and everyone else from the pain of their pasts. Though thankful for A.L.I.E.'s help, Clarke admonished the AI for her past actions.
Josephine Lightbourne
Main article: Clarke and Josephine
Josephine Lightbourne
is one of the
Primes
on
Sanctum
whose parents attempted to sacrifice Clarke in order to bring back. Originally, it appeared as if Clarke died so that Josephine could be resurrectedmforcing Josephine to pose as Clarke amongst her friends and family. After learning Clarke's history from Murphy, Josephine shows a respect for Clarke's actions, calling Clarke "fairly awesome." However, Clarke survived due to
A.L.I.E.
's
neural mesh
and fought Josephine for control of her body, even trying to kill her at first. As their condition deteriorated, Clarke and Josephine were forced closer together, gaining access to some of each others memories and knowledge. After Josephine relinquished control of her body to Clarke, Clarke refused to give control back, instead seeking out
Gabriel Santiago
for help. As the two worked together to separate their minds, Clarke began to see herself in Josephine and desired to save them both. However, when Josephine hung on inside of Clarke through the neural mesh, she left Clarke no choice but to destroy her. Clarke later realized that Josephine was right about how their plan would get a lot of innocent people killed and adjusted her tactics to try to avoid that. When Josephine's parents realized that their daughter was dead, Clarke expressed genuine remorse for having to kill Josephine and for Russell and Simone's loss.
Appearances
Quotes
Killed Victims
Notes and Trivia
In an interview, Kass Morgan said her name came from Arthur C. Clarke, who was a British science fiction author, science writer, and futurist.[4]
In the TV series her surname was originally going to be "Walters", but it remained "Griffin" just like her book equivalent. 
Clarke is revealed to be bisexual through her romantic relationships with both Finn and Lexa, making her the first lead character on the CW to be LGBTQ+ and the first bisexual lead character on network television.
Marcus Kane included her in Jake Griffin's treason charges, and she was imprisoned in the Skybox.[5][6]

Clarke's prisoner number while on the Ark was "319". Clarke was in solitary confinement for 11 months.[5]

In "Pilot", Clarke stated she still had a month before her 18th birthday. At the end of Season One, the 100 have been on Earth for 29 days. At the end of Season Two, 52 days have passed, making her 18.
Clarke is given the nickname "Princess" by Finn Collins. His first words to her on the ground were "Why so serious, Princess?" and his last words were "Thank you, Princess".[5][8]
She is one of four Sky People to kill a delinquent.[7] The other three are Charlotte,[7] Bellamy Blake,[9] and John Murphy.[10][11]
In the Mount Weather quarantine zone, her room number was 302-5.[12]
When Niylah observed that Clarke does not have any kill tally marks on her back, Clarke responds that there is not enough room.[15] This may be reference to when she and Bellamy irradiated Mount Weather or one of her other mass-kills.
Clarke becomes a Nightblood in "God Complex" by injecting herself with the formula instead of Emori. To create the serum, Abby and Jackson used Luna's (who was born a Nightblood) bone marrow.
She survived Praimfaya without any structure providing her protection from radiation. She and Madi are the only known ground survivors because they had Nightblood.[16]
She is one of four Sky People to be in a romantic relationship with a Grounder. The other relationships are Octavia and Lincoln, Octavia and Ilian, Clarke and Lexa, Clarke and Niylah, Murphy and Emori, and Bellamy and Echo.
She has the fifth-highest known kill count after the Judge, A.L.I.E., Diana Sydney and Bellamy Blake, at approx. 940 kills.

Season Four is the only season that Clarke didn't kill or indirectly kill anyone.

Clarke is the only main character in Season Five that she appears in every episode.

Although she only appears in flashback in "Red Queen".

At Unity Days 2017, Bob Morley revealed Bellamy was the second best student on The Ark, after Clarke.[citation needed]
Clarke is left-handed,[5] presumably because the actress Eliza Taylor is left-handed.
She is one of the few characters who exist in the book series, see Clarke (Novel).
Clarke Griffin, Octavia Blake, John Murphy, and Eric Jackson are the only four named characters from the "Pilot" who are still known to be alive.

Clarke is one of four named delinquents that currently known to be alive. The other three are Octavia Blake, John Murphy, and Nathan Miller.
Clarke is one of two characters that have been main characters since Pilot. The other is Octavia Blake.

Clarke is tied with Octavia Blake for the most character appearances on the show, both only missed 5 episodes; Bellamy Blake is the third.
Clarke is the only main character that is seen in the posters for both Season Three and Season Six.
Season Three, Season Six and Season Seven are the only three seasons where Clarke does not appear in every episode.
Clarke was at first bilingual, speaking both English and Trigedasleng. After going into Josephine Lightbourne's Mindspace, she now also speaks Mandarin, thus making her trilingual.
She is one of two major characters in Season Six to die and be revived. The other character was Murphy.
Clarke has the highest kill count of Primes, having killed five: Josephine Lightbourne, Simone Lightbourne, Jasmine Mason, Caleb Mason, and Miranda Mason. The Primes that Clarke killed were also left permanently dead; her methods of killing them left the Primes irretrievable for future resurrection.
Clarke is the only human who did not transcend after she was punished for killing Bill Cadogan during the the Judge's test.
Gallery