This article lists the population estimates and all known fatalities from the The 100 TV series.
Population Numbers
Edit
Grounders
Edit
Main article: Grounders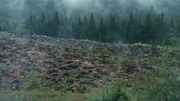 It is unknown how many Grounders are in the area. There are 12 Clans as well as an unknown amount of nomadic Grounders. Altogether, they do have the highest population count of the residents in the Tondc-Mount Weather area as witnessed by the sheer number of gathered warriors in We Are Grounders (Part 2), Long Into an Abyss, Rubicon, and Blood Must Have Blood (Part 1).
In Long Into an Abyss, Lexa confirms that Clarke Griffin burned 300 of her warriors in We Are Grounders (Part 2). In Human Trials, Finn Collins massacres 18 villagers in Tondc. In Rubicon, Cage Wallace sends a missile to Tondc, killing 250 Grounders and Sky People. In Hakeldama, Charles Pike, Bellamy Blake, Hannah Green, and the rest of Farm Station massacre 299 sleeping warriors.
After the Second Nuclear Apocalypse, the population of Grounders has been reduced to approximately 1,100.
Delinquents
Edit
Main article: Delinquents
Not including Bellamy Blake, there were 100 Delinquents sent to earth in Pilot. After 7 deaths and after Raven Reyes's arrival in Twilight's Last Gleaming, there were 95 Sky People on earth. Before the battle at the end of We Are Grounders (Part 2), Bellamy and Clarke state there were 18 dead and 82 alive. (The total ignores two people.)
After the battle, only 48 Delinquents were taken to Mount Weather, leaving behind Bellamy, Raven, and 6 other Delinquents. By the end of Blood Must Have Blood (Part 2), there are 46 Delinquents left along with Bellamy and Raven. At the end of Perverse Instantiation (Part 2), there are 44 remaining Delinquents along with Bellamy and Raven.
After the second season, the delinquents were no longer a separate group and therefore harder to identify. At least two delinquents died during the third season.
By the end of fourth the season, there are only six delinquents confirmed alive: three went to the Go-Sci Ring, two surviving within the Second Dawn Bunker, and one living in Shallow Valley. Because there are only sixty confirmed deaths, the status of thirty-four delinquents remain unknown. If any of them remain alive, then they would have also survived within the underground bunker. At least four other delinquents had their names on Clarke's list but it is unknown if they made it to the bunker.
At least 2 delinquents died in the fifth season. Monty Green and Harper McIntyre died their own death from old age, being aboard the Eligius IV.
Sky People
Edit
Main article: Sky People
Chancellor Jaha mentioned in Contents Under Pressure that there were 2237 people on The Ark but they only have enough Exodus ships for 700 to get to Earth. In Unity Day, Diana Sydney's dropship escape costs the lives of hundreds of Arkers as well as everyone on board her dropship. It is estimated in The Calm that there were no more than 1,000 survivors and at least 1,500 dead as a result.
Project Exodus then took place and the Ark was brought to the ground. An estimate of how many survivors of the Ark made it to the ground in We Are Grounders (Part 2) is unknown since there are still several missing stations as of the Season Two finale. So far, Mecha Station, Alpha Station, and Factory Station are the only three stations with known survivors with Factory Station having only one survivor, Mel.
In 'Wanheda (Part 2)', it is discovered that Farm Station survived the landing with no casualties, however, after four months trapped within Azgeda territory, only 63 Sky People survived from three times that many. In Ye Who Enter Here, 49 Sky People are killed when Mount Weather's self-destruct sequence is initiated.
After the Second Nuclear Apocalypse, the population of the Sky People has been reduced to approximately 100.
Mountain Men
Edit
Main article: Mountain Men
Dr. Lorelei Tsing mentioned in Long Into an Abyss that there are 382 Mountain Men living inside of Mount Weather. In Coup de Grâce, however, the number drops to 380 when a sniper from Mount Weather is killed by a Grounder and Sgt. Lovejoy is killed by Bellamy Blake. Emerson mentions in Bitter Harvest that during the final battles for Mount Weather, 381 people were killed: 182 men, 173 women, and 26 children, which means that Emerson is the only one to survive from 382 to 1.
In Rubicon, Bellamy creates a radiation leak that causes the deaths of eleven Mountain Men (including Dr. Lorelei Tsing), and that puts the number of Mountain Men to 369. By the end of Resurrection, two guardsmen are killed by Bellamy, one sniper is killed by Clarke Griffin, and five guardsmen are killed by the Delinquents in the mess hall, leaving only 361 Mountain Men left. In Bodyguard of Lies, at least 6 more Mount Weather Guard are killed in the Acid Fog machine explosion, leaving the total at 355 Mount Weather residents.[1]
Several more Mountain Men are killed during the Delinquent sweeps, the skirmishes on the ridge above the door and at the dam, and when they take another group of Sky People captive during Blood Must Have Blood (Part 1). After Clarke and Bellamy irradiate Level 5 in Blood Must Have Blood (Part 2), all of the Mountain Men die except for Cage Wallace and Carl Emerson. After Cage is killed by Lincoln, Carl Emerson remains the sole survivor of Mount Weather. However, Emerson is later on killed by Clarke in Demons. His death marks the extinction of the Mountain Men.
Eligius Prisoners
Edit
Main article: Eligius Corporation
Bellamy Blake mentioned in Sleeping Giants that there were originally 337 passengers living on Eligius IV. There were originally 300 prisoners, 25 guards, and 12 crew members. After the mutiny orchestrated by Charmaine Diyoza, the guards and crew were all killed save for Miles Shaw, reducing the number to 301. So far, as a result of the conflict between the prisoners and natives, the number has dropped to 293. 2 of them died in Eden, 5 died in Sleeping Giants, 5 died before a riot between Diyoza's followers and McCreary's followers. 6 more died before Wonkru started a war with prisoners. At least 11 died due to the war.
Body Count
Edit
References
Edit