"
Who we are and who we need to be to survive are two very different things.
"
— Bellamy Blake
Bellamy Blake was a major character in the first, second, third, fourth, fifth, sixth, and seventh seasons. He was portrayed by starring cast member Bob Morley and debuted in the series premiere.
On The Ark, Bellamy was manipulated into attempting to assassinate Chancellor Jaha at the behest of his political enemies, an action he later showed remorse for. He did this because he was promised a position on the dropship that would be sent to Earth with his younger sister Octavia, as he believed it was his duty to protect her. Bellamy quickly established himself as the Delinquents' leader once the dropship landed on Earth, Although this leadership would be challenged by the likes of Clarke Griffin.
At first, Bellamy and Clarke struggled with each other for leadership of the Delinquents. Bellamy was sick of always being controlled and following strict rules his whole life, so he took his newfound freedom as a chance to do whatever the hell he wanted. Clarke, on the other hand, wanted some order and rules, leading to disagreements between the two. Eventually Bellamy and Clarke settled as co-leaders after the murder of Wells Jaha and Charlotte's suicide. This made Bellamy finally realize Clarke's point of there needing to be some sense of order. Throughout his time leading the delinquents, Bellamy grew a deep disliking of the Grounders and was ready to fight them head on. During the ongoing war with the Grounders, Bellamy proved to be a very skilled fighter.
In season 2, After most of the Delinquents were captured by Mount Weather, Bellamy worked tirelessly to find them. The Mountain Men were not immune to the radiation outside. The only reason he and the Sky People were immune was thanks to their bodies adapting to solar radiation. The Mountain Men wanted to kill the Delinquents they'd captured so they could extract their bone marrow and inject it in themselves, thus making them immune to the radiation. Eventually Bellamy infiltrated Mount Weather with the outside help of Clarke and the Grounders, working closely with Maya Vie to keep the Delinquents safe and help them escape the Mountain Men. Together Clarke and Bellamy made the difficult choice to irradiate Mount Weather in order to save their people. Afterwards, when Clarke left everyone to be on her own, unable to come to terms with her actions, Bellamy remained behind in the newly-formed Camp Jaha.
Bellamy would later become a guard at the newly renamed Arkadia. After previous hostilities with the Grounders, the harsh restrictions placed on Arkadia, as well as the death of his girlfriend Gina Martin by Azgeda, Bellamy aligned himself with Charles Pike, who also holds a negative view on the Grounders. When an army of 300 Trikru warriors were sent to protect Arkadia from Azgeda, Pike persuaded Bellamy to steal guns from the armoury to wipe out the Trikru army, viewing them as a threat. Pike then lead their group out to the Trikru army with Bellamy and shot almost every warrior dead. After seeing how far Pike was willing to go and at the prospect of the deaths of his friends, Bellamy decided to warn Octavia that Pike was going kill Lincoln, Octavia's lover. Despite his attempt to stop it, Bellamy was unable to prevent Lincoln's execution, whose death drove a deep rift in their relationship. Octavia's hatred for him hurt Bellamy deeply. Later, he helped defeat A.L.I.E. and her army of chipped soldiers, protecting Clarke while her mind was in the City of Light.
Following Pike's death and A.L.I.E.'s defeat, Bellamy returned with the Sky People back to Arkadia, helping to deal with the fallout of past events and a looming Second Nuclear Apocalypse. He helped repair Alpha Station to shelter the Sky People from the coming radiation, as well as defending from Azgeda who now have control of Polis. Under the command of King Roan, Azgeda took Bellamy and held him captive. During this time Bellamy learned of his sister's supposed death at the hands of Echo, which "broke" him. After Clarke and Roan struck a deal to share Arkadia with Azgeda, Bellamy and the others were set free. He returned to Arkadia in time to witness Alpha Station burn at the hand of Ilian. Bellamy learns that Octavia had not died and is greatly relieved and happy, but she is still unwilling to forgive him.
Not long after the discovery of the Second Dawn Bunker, Bellamy's relationship with Octavia has been restored, but this was cut short when Bellamy and others leave to rescue Raven Reyes. Without time to return to the bunker, they decide to make an attempt to go back into space, but were forced to leave Clarke behind. Six year later, he and his group returns to Earth and finds Clarke alive. After reopening the bunker, Bellamy and others spend most of their time attempting to avoid a war between Wonkru and the Eligius prisoners, which leads Bellamy to poison Octavia, briefly leaving her in a coma. After Paxton McCreary launches the Damocles bomb and destroys the valley, Bellamy joins the others on Eligius IV and goes into cryosleep. He and Clarke are awoken 125 years later by Jordan Green, who shows them that Monty and Harper found another habitable world for them to live on.
Bellamy leads the expedition onto Alpha, and they encounter and befriend the Primes who allow them to stay. After Clarke is used as a host for Josephine Lightbourne and seemingly killed, Bellamy swears vengeance against the Primes. When he realises that Clarke is still alive, Bellamy takes her to Gabriel Santiago who removes Josephine's Mind Drive, killing her and giving back Clarke control of her body. Alongside the Children of Gabriel, Bellamy invades Sanctum, exposing the Primes as "false gods", saving his people and the Sanctumites. He later witnesses Octavia being injected by Hope Diyoza and taken away through the Temporal Anomaly, causing Bellamy to think that Octavia was stabbed.
Bellamy is later taken through the Anomaly himself by the Disciples to the planet Bardo where he escaped and attempted to rescue his sister. However, Bellamy was apparently killed in an explosion, devastating his friends. In reality, Bellamy was sent to the planet Etherea with the Disciple Conductor Doucette. Bellamy's experiences on Etherea during the two months he spends trying to reach the Anomaly causes him to convert to the Disciple cause and to betray his friends after returning to Bardo. With Bellamy now fanatically loyal to the Disciples, Clarke reluctantly kills her best friend to protect her daughter. After humanity passes the Judge's test, Bellamy is proven to have been right about transcendence, although his own death prevents him from being able to transcend.
Early Life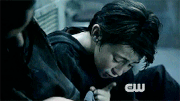 Aurora Blake, mother, was forced to keep her second pregnancy a secret because of the one-child law on the Ark. A young Bellamy watched as his mother gave birth to his sister and helped to keep her quiet after the birth. Once the child was born, Aurora told Bellamy to name her. He had learned about the Roman emperor, Augustus, and named his sister after the emperor's sister, Octavia. Aurora told Bellamy that Octavia was his responsibility. He tells baby Octavia that he loves her very much and promises to keep her safe, no matter what may happen.
Since Octavia was an illegal second child, she had to be kept secret from everyone or else their mother would be killed for her crime. Octavia was kept hidden in their room, never able to venture out. Bellamy would read her stories and play with her, and tell her about the Ark. Their mother would also read them mythology, which Octavia and Bellamy loved. In order to find out about the surprise inspections ahead of time, Aurora was sleeping with an Ark Guard that she and Bellamy resented, and she was also trying to get Bellamy a position on the guard. During these inspections, Octavia was forced to hide under the floorboards and wait quietly until they were done. Octavia hated doing this so Bellamy told her to tell herself, "I am not afraid", in which she did and it helped her to calm down.
Octavia was finally exposed a year before the 100 were sent to Earth. Bellamy had become an Ark Guard Cadet and was able to get duty during the Unity Day masquerade party. He sneaks Octavia out of their room for the first time in her life so she could attend, promising her that he'll keep her safe and deliver her home before their mother even knows they're gone. The party is disrupted by a solar flare alert, requiring everyone to show ID. Since Octavia didn't have an ID, they knew they would be caught. Bellamy tells her to go straight back to their room and hide while he creates a distraction but Octavia doesn't know how to get back. Commander Shumway notices that Bellamy has his shock baton out and starts to question him when he asks Octavia for her ID. Bellamy lies that he's already checked her but Commander Shumway realizes the lie quickly. Octavia tries to run but is easily captured. She is imprisoned and their mother executed. Bellamy loses his position as a Guard Cadet and is demoted to janitor. Over the next year, Bellamy is unable to see Octavia in lock-up.
One day he is approached by Commander Shumway who tells him that 100 prisoners are being sent to the ground, among them his sister. He offers Bellamy the chance to go to Earth and protect Octavia but only if he kills Thelonious Jaha. Bellamy accepts the deal and after shooting Jaha, he is able to sneak onto the dropship by posing as a guard and stows away till they are on the ground.
Throughout the Series
Personality
Bellamy takes charge of the group as soon as they reach Earth. He has been protective of his younger sister Octavia Blake since childhood and he wants the best for her. Eventually, this protection extends over all of the Delinquents. Bellamy is a natural leader who speaks his mind. He can be aggressive but he also has a softer side and a big heart.
In the first season, while he originally leads the Delinquents by a motto of "whatever the hell we want," Clarke gets Bellamy to see sense in laying down rules after the near-hanging of John Murphy and the suicide of Charlotte in response to a lynch mob. Its eventually shown that much of his early actions in getting rid of the Delinquents' wristbands are actually selfishly motivated: his attempted assassination of Chancellor Thelonious Jaha, which Bellamy was unaware failed, means that Bellamy will be executed if the adults get to the ground so he needs them to think that everyone is dead so they don't come after him. To this end, Bellamy goes so far as to destroy Raven Reyes' radio so that she can't alert the Ark and even briefly considers killing her, but eventually relents when he finds out that over 300 people will die if the Ark doesn't know the ground is habitable. After their attempt to alert the Ark with flares is too late, Bellamy is shown to carry enormous guilt over his actions costing so many lives which had never been his intention. However, Bellamy's genuine leadership helps keep the Delinquents alive under harsh conditions, especially once he starts working with Clarke Griffin instead of against her, causing Clarke to help him get a pardon and acknowledge Bellamy's good qualities. He can also be manipulative and often gets blindsided as he only cares about saving others even when he is actually the one in the wrong.
Bellamy has shown a desire to find meaning to all the chaos and violence that surrounds him. In Season Three, after failing to protect his people from an Azgeda attack, he accepts Charles Pike's simplistic view that the Sky People are the "good guys" and all Grounders are the "bad guys", resulting in him helping to kill 300 innocent Trikru warriors. In Season Seven, after getting trapped on Etherea for two months, Bellamy becomes fanatically loyal to the Disciples' cause. Echo believes that it was Bellamy's need for a meaning to everything that has happened and all of the people that they have killed that caused this drastic change, and that the real Bellamy died long before his actual death as a result. Bellamy is so devoted to his new cause that he is willing to allow his friends to be tortured when he can't get them to see his point of view, though he shows reluctance when it goes too far. Bellamy continually insists that he is still their friend and will keep them from getting hurt, but no one trusts him anymore. Despite his betrayal, Bellamy is shown to still care about what his friends think of him and is upset at the idea that they now hate him.
Physical Appearance
Bellamy has an olive complexion with thick dark brown curly hair and brown eyes. He has a lean, muscular build and appears to be physically strong.
In Season 5, after the 6 years and 7 days jump, he has longer hair and jawline beard.
In "Etherea," during his time on Etherea, Bellamy develops longer hair and a longer beard from being unable to cut his hair or shave.
In "The Stranger," after joining the Disciples, Bellamy begins wearing one of their outfits. He also cuts his hair and shaves his beard, adopting a look similar to what he had after landing on Earth for the first time.
Relationships
Aurora was Bellamy's mother. Bellamy seemed to have a very close relationship with his mother when he was young. On occasion, Aurora would have Bellamy recite why he could never tell anybody about his mother's second pregnancy. Bellamy was present when his mother gave birth to her second child and was allowed to name his sister. As Bellamy grew older, his relationship with his mother became strained. This may have been due to her prostitution, which Bellamy often voiced his disapproval of. Twenty-two years after his birth, his mother was
floated
when
Octavia
was discovered. Aurora's death greatly affected Bellamy. While on
Earth
, Bellamy blamed Octavia for Aurora's death. It was later mentioned that Bellamy didn't mean it.
Main article: Bellamy and Octavia
"My sister, my responsibility."
- Bellamy to Clarke
Octavia is Bellamy's younger sister. Bellamy's and Octavia's sibling relationship starts before the first episode of season one at Octavia's birth. After Octavia was discovered and locked up, Bellamy shot Chancellor Jaha in return for being able to stow away on the Delinquents' drop ship so he could protect his sister on the ground. Throughout Season One, Bellamy is overly protective of Octavia to the point of them getting into numerous fights, acting as a father more than a brother. Eventually, he acknowledges his sister is stronger than he thought and in We Are Grounders (Part 2), Bellamy says goodbye to Octavia and allows her to leave with Lincoln after she is injured in the war.
Bellamy and Octavia are reunited again in Season Two when Octavia saves him from Grounders in Many Happy Returns. Bellamy then helps Octavia find Lincoln and treat him through his Reaper drug withdrawals in Long Into an Abyss. After Bellamy infiltrates Mount Weather with the help of Lincoln in Survival of the Fittest, Octavia refuses to leave him behind, sacrificing her chance to be a Trikru warrior in Blood Must Have Blood (Part 1). Bellamy then saves her life by irradiating all of Mount Weather in Blood Must Have Blood (Part 2).
Their relationship becomes strained after Lincoln's death, as Octavia blamed Bellamy.
In season six, their relationship becomes further strained because of Octavia's actions as
Blodreina
, leading to Bellamy banishing his sister after arriving on
Sanctum
. Once reunited with a remorseful Octavia, Bellamy barely even acknowledges her presence before finally stating that while she's still his sister, she is no longer his responsibility. However, after Octavia disappears with the
Temporal Anomaly
, Bellamy becomes visibly distraught and attempts to find her.
Main article: Clarke and Bellamy
Josephine Lightbourne: "Take you and Clarke for instance. Now that's a weird relationship, isn't it? First you want to kill her to save your own ass, even though it means the genocide of your own people on the Ark and then you become besties, bonding over the actual genocide at Mount Weather. Together. You lock her up, she locks you up, you leave her on Earth, she leaves you to die in the fighting pits. I mean, it's exhausting frankly."
Bellamy Blake: "Tell me about it."
Clarke and Bellamy clashed often in Season 1; both of them had different ideas on how the Delinquents should be led, Bellamy being primarily concerned with Octavia at first. The two soon developed a mutual respect for each other. Clarke was able to communicate with Bellamy most of the time, and could sometimes bring out a better side of him. Bellamy respects Clarke, and as the two leaders, they understood each other more than the other Delinquents, as displayed in "Contents Under Pressure" Despite the fact that they disagreed over some leadership decisions, they respect each other's opinions, and brief moments of romantic attraction have been shown. After "Day Trip" and saving each other's lives Clarke and Bellamy become friends. Clarke acknowledges that the main reason why the group has survived is because of him, and he can't abandon them for fear of Chancellor Jaha and the Ark's wrath, and so she speaks in Bellamy's favor during his talk with Jaha which clearly has a strong effect on Bellamy. Thanks in part to Clarke speaking up for him, Jaha agrees to pardon Bellamy for his actions.
Over the course of Season 1, the two grow closer to each other as they respect and rely on each other's decisions. In the Season 1 finale, when Clarke decides that the camp should evacuate; Bellamy reluctantly agrees which would have been an impossible act at the beginning of Season 1. However, due to events they return to camp and fight off the Grounders. When Bellamy is face to face with Christian; Clarke is utterly distraught as she fears for Bellamy's life. After Clarke closes the hanger door and launches the dropship, she presumes that Bellamy is dead by the ring of fire and is attacked with grief and sorrow.
In Mount Weather, Clarke constantly tries to unveil the hidden secrets. It is evident that she is a strong leader and is still willing to lead her people in the right direction. Although Clarke and Bellamy are separated for the first 4 episodes, many parallels are seen between the two. Their influence on each other is evident, in their mutual loyalty to their people and Bellamy's reluctance to kill a Grounder accused of killing withholding information on Clarke's whereabouts. The two are reunited back at Camp Jaha in Human Trials. Clarke, hearing about his return from Abby, runs to and hugs him. Bellamy is surprised and hesitates momentarily, disbelieving that she is at the camp before he hugging her back fiercely. Both are very emotional. When they set out once more to find Finn and Murphy, Bellamy gazes at a sleeping Clarke and tells her that he understands why she had to close the dropship door on him once she wakes up. The two are seen exchanging small smiles of mutual understanding over the fire. After discovering that Mount Weather has transformed Lincoln into a Reaper in Fog of War, Bellamy asks for Clarke's help in changing him back. Bellamy steps in to defend Clarke when Lincoln becomes aggressive.
After Finn kills 18 Grounders while in pursuit of finding Clarke, Bellamy and Clarke's plan of keeping Finn free from the Grounders fail when Finn gives himself up out of guilt. After Clarke kills him out of mercy, not wanting him to suffer the torture ritual they planned to execute, Bellamy expresses concern for her well-being. Bellamy suggests a risky mission of going into Mount Weather to himself rescue their trapped friends, but Clarke quickly shoots down the plan. When Bellamy asks why as she is not in charge of him, Clarke admits that she "can't lose him too." This confession impacts him enough into silence. Bellamy shows his protective side when a meeting with the Grounders reveals that Clarke's drink had been poisoned, along with Lexa's. He knocks the drink out of her hands and steps in front of her to shield Clarke from the Grounders' aggression. When later reflecting on how he knew it had been Gustus who had poisoned the drinks in "Remember Me," Bellamy states that Gustus would "do anything for [Lexa]" and that it "just makes sense". His relationship and loyalty to Clarke is paralleled to Gustus's with Lexa. After a discussion with Lexa, Clarke finds Bellamy and agrees to his earlier plan that someone should enter Mount Weather. Bellamy asks why she's sending him to do the mission now when she didn't want him to put himself in danger before. Clarke states that she was being weak. This noticeably affects Bellamy and Raven and Octavia, who witness this. Clarke later restates Lexa's mandate that love is weakness to Abby, indicating that her sudden change of heart has to do with rejecting love and thus vulnerability to pain. Clarke is later shown highly concerned over Bellamy's safety, while still believing fully in him. Later, in "Coup de Grâce." Bellamy with Maya's help finds a way to communicate with Clarke through the radio previously set up by Monty, there Clarke states her faith in him by saying "You came though, I knew you would." Bellamy's skeptical face reveals that he is still hurt by what she said in "Remember Me." In Rubicon Bellamy finds out that Clarke lied to him about the whereabouts of Octavia during the bombing ofTondc, which Bellamy tried to prevent. Once reunited Clarke is shown to be extremely relieved that he is alive. When they are out of option to save their people from harvest by the Mountain Men, Bellamy refuses to allow Clarke to bear the burden alone and irradiates Mount Weather with her.
In Season Five, Bellamy and Clarke's relationship becomes further strained by her decisions during the Battle for Eden. In "Damocles (Part 1)," Clarke spares Echo from immediate execution because she knows how happy Echo makes Bellamy. In "Damocles (Part 2)," Bellamy learns from Madi that Clarke spent every day of the six years that they were apart trying to reach him, something that Bellamy was previously unaware of. Bellamy is later shown to be forgiving of Clarke, joking that the Commander ordered him not to be mad at her anymore.
In Season Six, Bellamy is shown to be far more forgiving and accepting of Clarke than her other friends. He is the first one to realize that Josephine Lightbourne has taken over Clarke's body and is absolutely devastated by her death, wanting to seek revenge against Josephine and Russell Lightbourne. However, after realizing that Clarke wouldn't want that, Bellamy decides to make her death mean something by leveraging it against Russell to make a deal with the Primes. After Clarke, having survived thanks to her experiences with A.L.I.E., manages to send a Morse code message to Bellamy, he quickly grasps the significance of it and sets out to get her back at all costs, even destroying the deal with the Primes in the process. In "What You Take With You," Josephine, having seen some of Clarke's memories and learned of her history from Murphy, comments on just how complicated the relationship between the two is, leading Bellamy to quip "tell me about it." Shortly afterwards, when the Children of Gabriel try to decapitate Josephine, she relinquishes control to Clarke to escape and Bellamy instantly recognizes that his friend has regained control of her body just from the change in demeanor and Clarke's fighting skills. Bellamy urges Clarke to run which she does, but leaves Bellamy with the keys so that he can escape by himself. In "Matryoshka," Bellamy refuses to give up on Clarke, performing CPR and ordering her to fight as he can't lose her. Hearing Bellamy, Clarke fights back and kills Josephine for good, reviving in Bellamy's arms. The two then immediately embrace. In "The Blood of Sanctum," after Clarke loses her mother and is forced to kill most of the Primes, including Simone Lightbourne in Abby's body, Bellamy comforts her over her loss.
By
Season Seven
, Clarke and Bellamy consider themselves to be best friends. However, their friendship is destroyed when Bellamy betrays his friends and joins the
Disciples
. In "
Blood Giant
," Clarke reluctantly kills Bellamy to protect
Madi
after he refuses to listen to reason. Clarke is devastated by his death, but feels that she had no other choice in the end.
Main article: Bellamy and Lincoln
"You protected my sister before you even knew her. "
- Bellamy to Lincoln
Bellamy and Lincoln at first meeting have a hostile relationship Lincoln had kidnapped his sister. Bellamy is disturbed by the sketches of Octavia in Lincoln's journal. Bellamy tortures Lincoln, trying extract information on the Grounders and on how to save Finn's life. In Unity Day, Bellamy discovers the extent of Octavia's and Lincoln's relationship when he sees them embracing and then when Lincoln saves her life. Eventually in We Are Grounders (Part 2), Bellamy sees him as an ally and allows him to take Octavia to safety in order to save her from her arrow wound.
Bellamy helps Octavia capture a Reaper Lincoln in Fog of War and they bring him back to the drop ship so Clarke can try to save him (Long Into an Abyss). In Survival of the Fittest, Bellamy joins forces with Lincoln in an attempt to infiltrate Mount Weather but Lincoln gives into his reaper addiction and leaves Bellamy at the mercy of the Mountain Men. Lincoln finds out in Rubicon that in spite of him deserting Bellamy, Bellamy had still successfully made it into Mount Weather.
In Season 3
Bellamy and Lincoln
are shown to be friends. Both are concerned about Octavia. They are not shown to have much contact after Pike gains influence over Bellamy. Lincoln's imprisonment, in conjunction with other factors, leads to Bellamy questioning and ultimately rejecting Pike's influence. Bellamy is unable to stop Lincoln's execution by Pike, something that clearly horrifies Bellamy.
Main article: Bellamy and Murphy
"We hanged him. We banished him. And now we're gonna kill him. Get the hell out of my way."
- Bellamy to Finn about Murphy
In spite of Murphy's abrasive personality, Bellamy befriends him soon after they arrive on Earth. Although Murphy seems keen on doing as he pleases, he holds a certain respect towards Bellamy and briefly takes a right-hand-man kind of stance around him. Their relationship sours, however, when Murphy is falsely accused of killing Wells; the fallout eventually results in Charlotte's death and Murphy's banishment from the group. When he returns, Bellamy is reluctant to let him stay, but ultimately gives him a second chance. Murphy, however, betrays him and tries to kill him, causing their relationship to be even more strained.
When Bellamy encounters Murphy again after Murphy tried to hang him, Bellamy begins beating Murphy up but is stopped by Marcus Kane. They are both arrested and locked in the stockade together at Camp Jaha. Bellamy gives Murphy another chance when he takes Murphy with him to hunt for the missing Delinquents and Murphy proves himself to Bellamy and saves his life at one point. Bellamy appears to trust him once again, so much that he even gave him a gun. Bellamy even goes so far as to protect Murphy when Raven wants to exchange his life with Finn's for the Tondc massacre.
In later seasons, Bellamy and Murphy are shown to have a better relationship, particularly after their six years together on the Ark as part of Spacekru.
In "Blood Giant," after Bellamy joins the Disciples, Murphy expects him to be pretending and asks what his plan is, citing his own experience at pretending to be something that he's not. After Bellamy tells Murphy that he's not pretending, Murphy leaves his side and Bellamy is visibly hurt by his friend's rejection of him. During their last conversation, Murphy tells Bellamy that he hopes the betrayal was worth it and Bellamy insists that it was.
After learning of Bellamy's death, Murphy is devastated by the news. After manipulating Raven, Murphy comments that he learned how from watching Bellamy and then immediately saddens with the reminder of the loss of his friend. Both Emori and Murphy openly acknowledge that they miss him.
Appearances
Quotes
Killed Victims
Notes and Trivia
Gallery