Abigail "Abby" Griffin was a major character in the first, second, third, fourth, fifth and sixth seasons. She was portrayed by starring cast member Paige Turco and debuted in the series premiere.
Abby was the Chief Medical Officer and a former Council member on the Ark. She was on the Council when they chose to send the 100 to Earth and had been monitoring them throughout the first season. She was the former Chancellor of Arkadia but struggled with leadership due to the rebellious actions of her daughter, Clarke Griffin. She took the City of Light Key to save Raven Reyes from further physical pain. Later, she is unchipped and saved by Clarke. Throughout the fourth season, Abby researches a way to create Nightblood, becomes girlfriend of Marcus Kane. Then Raven reveals to Abby about how to cure her seizures.
In "Adjustment Protocol," Abby becomes a Nightblood to protect Madi. As a result, Russell Lightbourne wipes Abby's mind, effectively killing her and turns Abby into the new host for his wife Simone. Simone is floated by Clarke shortly thereafter, killing Abby's body as well which is left floating away into deep space. In lieu of a body, Abby's wedding ring, returned by Russell to Clarke, is buried on Sanctum next to the dead Flame in "False Gods" as a form of funeral.
When Raven entered the final test to determine the fate of the human race, the Judge took on the form of Abby because of Abby's importance to Raven.
Early Life
Abigail was born on the Ark. She married Jake Griffin and gave birth to their daughter, Clarke. She later became the Chief Medical Officer and a member of the Council.
Abby's husband discovered an error with oxygen levels on the Ark and, knowing that it meant that life would stop being sustainable, thought the people had a right to know. Abby and the Council disagreed because they feared it would only cause riots and mass panic. Jake was going to go public with this knowledge anyway, but only Abigail, Clarke, and Wells Jaha (Clarke's best friend whom she had told in confidence), knew about it. Abby accidentally condemned Jake before he was able to release the video recording that he made because she told Chancellor Jaha, hoping he would convince Jake not to go through with it. Instead, Jaha arrested Jake and had him floated immediately. After watching her father being sucked into space, Clarke was put in juvenile lock-up, also known as the Sky Box, because of her knowledge of the error. Abby allowed Clarke to think it was Wells who had turned her father in, causing problems in both relationships.
Abby was part of the organization and running of the 100 program that sent 100 prisoners, including Clarke, down to Earth, although it was revealed in the Pilot that Abby did not have the final word about who was sent down to the ground, and it was Marcus Kane who made the final decision to include Clarke in the 100.
In Season Five, after the prisoners arrive back to Earth, a prisoner, Michael Vinson, starts giving her addicting pills. To make sure Abby can't die from not taking pills, Vinson has to kill other prisoners from pills, "knowing what it's like to crave something."
Throughout the Series
Personality
Abby is a strong willed individual who tries to fight for what is right for her family and others.
She makes risky decisions, but in the end, she is always righteous in what she does and she is willing to face the consequences of her actions.
Physical Appearance
Abby has brown hair and brown eyes. She is often seen wearing jeans and a leather jacket.
In Season 5, after the 6 years and 7 days jump, her hair has white highlights.
Relationships
Main article: Clarke and Abigail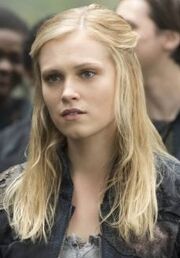 Clarke Griffin is Abby's daughter. Before Clarke is sent down to Earth in the Pilot, Abby tells her to be safe and that she loves her. After, Abby closely watches over Clarke's vitals. While on Earth, Clarke learns the truth about her mother's involvement in her father's death in Earth Kills. This causes a rift between Clarke and her mother. To punish her mother for her father's death, she takes her wristband off, letting Abby believe her to be dead. When Raven Reyes makes contact with the Ark in Contents Under Pressure, Clarke confronts her mother and tells her she knows the truth. Abby tries to apologizes explain his death was never supposed to happen. Clarke truly believes she will never be able to forgive her mother for turning in her father. When Clarke believes her mother to be dead in the Exodus ship crash, she is devastated.
When they are reunited in Human Trials, Clarke is happy to see her but their relationship is strained. The last time Abby saw Clarke she was her little girl and she has a hard time accepting how changed Clarke is. Clarke goes behind Abby's back to the point of usurping her authority on numerous occasions. Abby often disagrees with the decisions Clarke makes in regards to the people. Tensions escalate in Coup de Grâce when Clarke tells her mother that even though Abby is the Chancellor, Clarke is the one in charge. In Resurrection, when Abby finds out that Clarke knew ahead of time about the bombing of Tondc, she is appalled that her daughter would do such a thing and begs her to not forget they are the good guys. By Blood Must Have Blood (Part 2), Abby has come to realize the difficult choices her daughter has had to make are not so different than the choices she made on the Council and tells her daughter that maybe there are no good guys.
Abby and Clarke are reunited in Ye Who Enter Here when Abby and Marcus Kane travel to Polis to negotiate a peace treaty. When Azgeda blows up Mount Weather, Abby returns to Arkadia while Clarke stays in Polis to represent Skaikru. Abby and Clarke meet again in Perverse Instantiation (Part 1). At this point Abby has taken the chip and become a member of A.L.I.E.'s Cult, she tortures Clarke so she will tell them where the A.L.I.E. 2.0 is. When she refuses Abby hangs herself in order to force a confession, Clarke still will not divulge the location of A.L.I.E. 2.0. In Perverse Instantiation (Part 2) Clarke uses the EMP to fry Abby's chip. Abby helps connect Clarke to Ontari so Clarke may enter to the City of Light and defeat A.L.I.E.. While Clarke is in the City of Light Abby protects her daughter.
In Adjustment Protocol, Abby is reduced to immediate tears at the idea that Clarke is truly dead and threatens to kill Russell Lightbourne over her loss, something that Russell believes as one parent to another. Abby is later overjoyed to learn that Clarke has survived. In turn, Clarke is devastated when Abby is mind wiped to become the new host to Simone Lightbourne. Clarke holds out hope that Abby survived in The Blood of Sanctum, but accepts the truth after Russell confirms that her neural mesh is gone. Though Simone tries to trick Clarke by pretending to be Abby, Clarke is able to see through it and decides to float everybody in the corridor, Simone included. Though Simone hangs onto Clarke who has the chance to possibly save her, Clarke accepts that her mother is truly gone and after looking at Simone and thus Abby's body for a final moment, pushes Simone off of her so that she will be floated, taking Abby's body with her.
In
From the Ashes
, Clarke nearly kills Russell after he returns Abby's belongings to her, something that Russell had intended. In
False Gods
, in lieu of a body, Clarke buries Abby's wedding ring as a form of funeral with
Gaia
burying the dead
Flame
with her.
Abby loved her husband Jake dearly. When Jake announced that he wanted to go public about the fact
The Ark
was dying, Abby tries to convince him not to because she knows he will be floated. She turns to their friend,
Jaha
, in the hope that he will talk him out of it, but her telling Jaha of her husband's plans leads to Jake's execution. This devastates both Abby and also her daughter
Clarke Griffin
. However, while Abby knows the truth about Jake's death and blames herself, Clarke thinks it was the fault of
Wells Jaha
, who she told Jake's plan to in confidence. When Wells tells Clarke the truth, she is angry at her mother, but when the Exodus ship Clarke thinks Abby was on is crashed by
Mount Weather
, Clarke is distraught. When the two reunite in
Human Trials
, Clarke shows no anger towards her mother because she is so relieved to find Abby is alive. While Clarke may not have completely forgiven Abby, their relationship is mostly healed. In
Adjustment Protocol
, Jake is one of her last thoughts as Abby is mind wiped.
Main article: Kane and Abby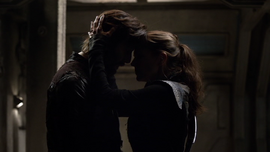 On the Ark, Abby and Marcus Kane constantly had opposing views. Kane saw Abigail as a threat to his goals and frequently had her arrested and even almost floated her once due to his strict rule-following and her bending of the rules. Later, in The Calm, he seems to start caring for Abby, saving her life when he is exploring the other deck to look for survivors. On Earth, Marcus is the first person to follow Abby out of the Ark ship once it lands.
In The 48, they go out looking for the Camp of the Delinquents and Clarke together. When Abby gives guns to the Delinquents to help them escape and look for Clarke and the others, Marcus sentences her to shock-lashing in Reapercussions before passing along the Chancellorship to Abby. In Resurrection, Abby finds Marcus trapped under rubble after the missile on Tondc, pulling on a piece of metal to make noise and she grabs his hand to stop him. Abby tries to help him and he tells her to leave him and go find Clarke until Abby explains that Clarke got out as she already knew about the attack. When rocks fall down and trap them both further, they talk about how their actions on the Ark have influenced Clarke and the sins they have to answer for. In Blood Must Have Blood (Part 2), after they are captured by Mount Weather and Abby has her bone marrow extracted, they return to Camp Jaha, holding hands.
In Bitter Harvest, Abby kisses Marcus on the cheek, in order to give him "hope". In Stealing Fire Marcus is to be executed by Pike but is freed by Harper, Miller, Bryan, Octavia, and Abby and has to flee Arkadia. Abby decides to stay behind. In response, he kisses her passionately. The two then do not meet again until Join or Die, when Marcus goes to Polis. Abby pretends to be unchipped in order to obtain Clarke's whereabouts from Marcus. She seduces him, but he realizes it's not her. Abby has him crucified for his resistance. However, Marcus' defiance wavers when Jaha threatens to kill Abby, and he takes the chip for her. Later, in Perverse Instantiation (Part 2), they reunite at the end after Clarke shuts down the City of Light. Abby and Marcus share an embrace while crying, to comfort each other.
In Heavy Lies the Crown Abby and Kane sleep together. They spend the majority of the season separated from one another. In The Other Side Abby learns that Kane has been locked outside of the bunker. Abby and Bellamy Blake work together to open the bunker door. As a result only 100 members of Skaikru can remain in the bunker. Abby says she will be outside during Praimfaya. When Kane protests she tells him that she loves him, but she has made her decision. Kane does not follow Abby's wishes, and keeps her inside the bunker.
In
Season Six
, Abby does everything she can to save Kane, even going so far as to make a deal with the
Primes
to resurrect Kane via a
Mind Drive
which requires the sacrifice of a young man named Gavin. However, Kane is unable to live with himself in this state and believes that Abby won't be able to live with herself either. Kane chooses to float himself, telling the devastated Abby that it is how they begin to do right again. In her final moments, Abby remembers Kane alongside her husband and daughter.
Main article: Raven and Abigail
Raven was a regular patient of Abigail Griffin on the Ark and their relation became stronger as Abby needed Raven's help to go herself back to Earth. They later declared that they were family.
In "
The Old Man and the Anomaly
" Raven agreed to do a spacewalk to create the Nightblood serum as a favor to save Abby's life and as a payback for Abby's support to Raven in the past. However, she makes it clear that she is still angry with Abby over her decisions. The two women make amends shortly before Abby's death in "
Adjustment Protocol
."
Michael Vinson
Main article: Abigail and Vinson
Abby's relationship with
Michael Vinson
was ultimately an abusive one with Vinson developing an obsessive infatuation with her and becoming Abby's drug dealer to have leverage over her. After Abby got clean, Vinson was unwilling to let her go and attempted to murder
Marcus Kane
in order to use her grief to drive Abby back into addiction and dependence upon him. However, Abby killed Vinson for his actions upon discovering what he was doing.
Appearances
Quotes
Killed Victims
Notes and Trivia
In the book series, Abby and Jake are named Mary and David.
In "Pilot", Abby is nearly floated by Marcus Kane for using too many medical supplies to save Chancellor Thelonious Jaha's life. However, Jaha grants her a pardon at the last minute.
In "Contents Under Pressure", due to Abby's invaluable medical expertise, she is given another exemption by the Council instead of being floated. She was charged with:

Theft of medical supplies (to trade for parts for Raven's pod)
Illegal salvaging (of Mir-3)
Unauthorized ship launch (of Raven's pod)
Pirating The Ark communication systems (to play Jake Griffin's video about the oxygen problem)

Up until "Perverse Instantiation (Part 2)", Abby had never killed someone directly. This changed when she shot a chipped Grounder to protect Clarke.
"Praimfaya" is the first season finale she doesn't appear in. She is however mentioned.
"Eden" is the first premiere season she doesn't appear in. She is however mentioned.
She is the ninth main character to die in The 100. The eight preceding ones are Wells Jaha, Finn Collins, Lincoln, Roan, Jasper Jordan, Thelonious Jaha, Monty Green and Marcus Kane.
Ironically, after avoiding floating in the first season, Abby's body is killed by floating in "The Blood of Sanctum". However, by this time her mind is gone and Abby is already effectively dead.
Additionally, both her and her longtime friend and lover, Marcus Kane, were ultimately floated, with just three episodes between their deaths.
Abby becomes the third Sky Person to become a Nightblood.
Last words: Raven stop! They'll kill you! Jackson!
Gallery
See Also